Today, we had our 4th winter pick up of our Fresh Fork Market CSA.
Here's what we received in our bag this week: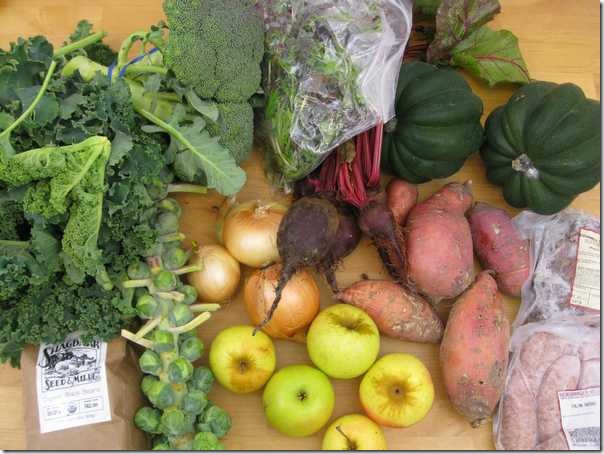 Here's what we were expecting this week:
Winter Week 4:
1 smoked ham hock
2 lbs. black turtle beans
1 lb. kale
2 acorn squash
3 lbs. sweet potatoes
Aprrox. 1 lb. onion
1 head broccoli (or 1 bag broccoli shoots…which are just smaller heads)
1 package chorizo or Italian sausage
1 bunch beets with tops
1 bag mixed salad or braising greens
1 stalk Brussels sprouts
1 quarter peck empire apples
I haven't given much thought to how this week's items would be used.  I'll probabaly cut the sausage into pieces and bake it in the oven.  Although, a crock pot batch of Italian sausage with peppers and onions might be a great meal for a busy swim lesson night next week.  I'll probably make soup with the ham hock.  I don't feel the need to be extra creative in the kitchen since holiday time.  We haven't even put our tree up yet.
Last time we got beans, I cooked them in the crock pot and then froze them in 1-2 cup portions.  That worked quite well and I haven't had to buy canned black beans in ages.  We were out of apples, so these will go into oatmeal as early as tomorrow.
The sweet potatoes weren't in the best shape, I'll probably just make mashed potatoes with them.  Beets will go into Harvard beets.  It will be a smaller batch, but enough for one or two of us to have them for a side.
I haven't stuffed acorn squash yet this winter.  I like to make a stuffing with squash, sausage, cheese and rice.  Yum!  The onions will get used in general cooking.
I can not get enough of the sprouts this year.  Love them!  This kale is some of the prettiest that I have seen all year.  I will probably make a quiche with it.
I never know what to do with these mixed greens.  They are bitter and tend to have lots of stems.  The broccoli on the other hand is always fabulous and will probably get cooked tomorrow.
It was nice to stock up on milk and yogurt at the truck.  Too bad I didn't think to buy eggs.  There's always next time!