Today we had a cold and rainy pickup.  We gifted our greeter with a hot Starbucks beverage.  Starbucks makes everything better.  The kids enjoyed their special chocolate milk and it was a nice treat.  We arrived at the pick up just about 4PM when it opened and were in and out quickly.  We didn't stay and hang out due to the weather.  There's only so much room under the tent.
I'm starting to recognize the weather based on our bags.  It's October and getting cooler.  We're seeing more greens again and the start of more winterish crops like potatoes, rutabagas and cabbage.
Here's what we were expecting to receive this week:
1 head either savoy green cabbage or red cabbage (smaller heads)
1 bunch kale
1 to 2 rutabagas with tops, depending on size (some are rather large)
3# bag red Norland potatoes
Approx. 1# onion
1 head cauliflower
1 8 oz. piece goat gouda
1 lb. Spelt Flour and Rosemary Linguini
2# Roma tomatoes
1 bunch Swiss chard
1 package sirloin pork chops, approx. 1.5#
1 carving pumpkin or bag of corn chips
It's definitely the end of tomato season.  These are the "good" side of these Romas.  I have a couple that aren't going to be usable.  We'll be making mashed rutabaga/potatoes or creamy soup with those ingredients.
We ate the cauliflower for dinner with the pasta.  It was tasty.  It had one bad spot so I wanted to wash, cook and eat it quickly.
I'm a little behind on cooking our cabbage.  This will be a 2 head consumption week!
I'll chop and add the onion to the "unstuffed cabbage recipe I hope to put in the crockpot tomorrow.  The small sweet peppers were a nice surprise.  I might stuff them with the red pepper Havarti from last week and roast them in the oven.
We had a choice between pumpkins and chips.  We took the chips since we already have a pumpkin.  If I could find some mild black bean and corn salsa from Blaze, we'd be all set.  The pork will probably get baked for a meal this weekend.
I'm not sure what to use the Gouda for.  It's probably going to be enjoyed in its own so we can taste the flavors.  I don't think I've ever had goat Gouda before.  We also have more greens this week.  Swiss chard and kale.  I'm pretty sure the Swiss chard will go into the Andouille sausage/sweet potato dish similar to what we made last week.
I haven't decided on a use for the kale yet.  We may have another quiche in the cue for this week.  That's one of my go to dishes when I don't know what to do with a green.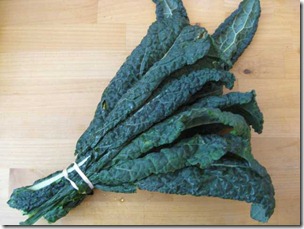 It's hard to believe that next week is the last week for summer.  I'm glad there no break before the winter CSA starts!  I'm also starting to think about getting a turkey.  We don't host Thanksgiving at our house, but last year I bought a package anyway since we like many of the ingredients.  It was just a bit too much food at our house all at once.  If I buy a turkey, I'd cut it up and freezer the parts and probably also make some turkey sausage.  I need to decide soon.  Turkey deliveries are three and a half weeks away.