Due to some other plans today, we picked up our bag yesterday.  The flexibility is awesome.
WOW, I need to get a better photo set up as I am having trouble fitting everything in one frame!  This week's bag is great.  I'm still getting used to the vast amount of stuff in a large vs. the small that we subscribed to last year.  I'd never go back to the small.
Here's my attempt at a group shot.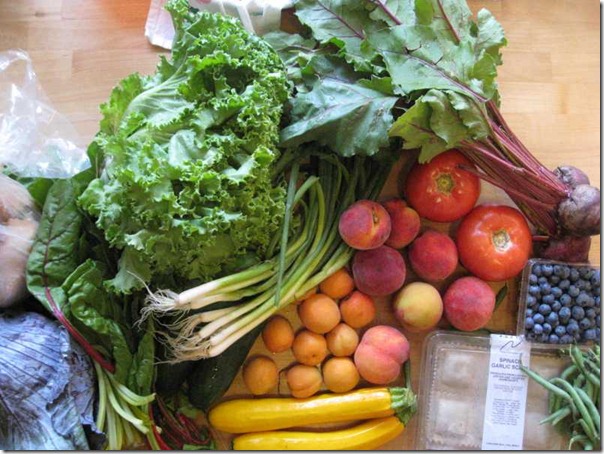 Here's what we were expecting to receive:
1 whole chicken
1 pint blueberries
1 head leaf lettuce
2 ct cucumbers
2-3 zucchini/squash
1 head red cabbage
About 3 tomatoes, depending on size
1 lb. apricots
1 bunch beets or 1 bunch carrots (rotating for the next two weeks, everyone will get each)
2 lbs. peaches
1 bunch green onions
1 lb. green beans
1 package of ravioli
1 bunch Swiss chard
Our chicken was partially thawed.  I'm guessing that was due to the excessive heat yesterday.  So, instead of putting it straight in the freezer, it's thawing in our fridge.  That made fitting everything in the fridge a bit challenging, but we managed.  I'm hoping to cut it up and have Stephen grill it for dinner tomorrow.  We'll see how that goes.  Usually, I roast them whole.  I'm going to cut the onions up and freeze them.
I'm not sure about the red cabbage.  I may use some of it in a slaw, but I need to do a bit more research.  The cucumbers have been great for salads and snacking.  I keep thinking about making some pickles, but they keep disappearing.
We'll grill the zucchini with the chicken.  The apricots almost didn't make it through dinner.  After packing lunches today, there's one left.
The peaches have been great for snacking or in our oatmeal.  These need another day or two to ripen.  With our abundance of lettuce, the tomatoes will be great in the salads (for Nick and Stephen).
I made a simple white sauce to go with the spinach and garlic scape pasta last night.  The pasta was on the strong side, but it was definitely tasty.  You can't really tell from this photo, but this is the biggest head of lettuce ever.
After going to the Beet class last week, I'm excited to make puree and freeze it for future pizza!  These are the best beet greens that I've ever seen.  I'm going to use them tomorrow so I can enjoy them.  The four of us finished the blueberries this morning at breakfast.  It's a good thing that I picked 15 pounds for the freezer this week.
The green beans have been tasty this year.  These will make a great side dish with one of our chicken meals.  I'll probably use the Swiss chard in some eggs for breakfast tomorrow.
This weekend is all about using up the bulk.  Our fridge is overflowing with fresh goodness.  Hopefully, by Sunday night, we'll have it a bit more under control.