Two crabby kids and I picked up our CSA today.  Nick just started preschool and has a shortened schedule for the first few days.  Nick's so excited that he's exhausted and Sally didn't have a nap.  It was a rough day.  Surprising, our pick up was smooth, but I knew better than to shop for anything at Whole Foods today.
Here's what we received: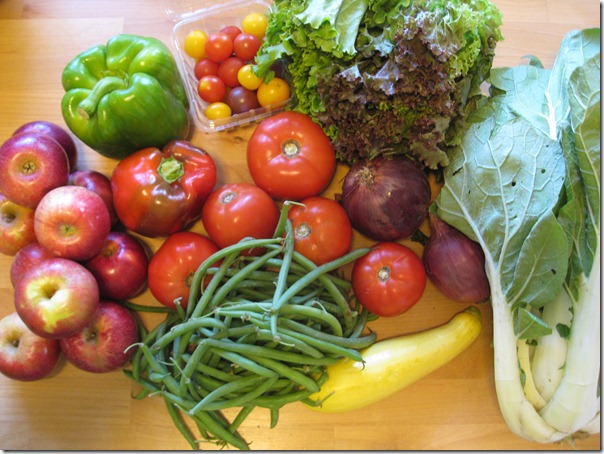 apples, green beans
bell peppers, onions
cherry tomatoes, slicing tomatoes
yellow squash, bok choy
leaf lettuce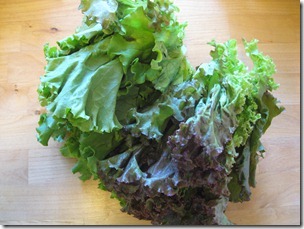 I'm so happy to see apples.  We love apples in our house and I've been waiting for them to start showing up.  Most of the local PYO is sparse this year.  We'll be enjoying them in oatmeal this week.  The green beans will be a side dish for a meal tomorrow or Thursday.
I'm done with tomatoes, peppers and onions.  We planted a community garden this year and our tomatoes are out of control – and I don't like tomatoes.  Actually, we're ok on peppers since I didn't pick them this year.  We'll be chopping and freezing them along with the onions.  I love having local ones available throughout the winter.  I'm mostly just freezing tomatoes right now.  We have tons of sauce and I'm not sure what we'll need next.  I did make some great enchilada sauce this week.  I don't think I'll ever buy store bought again.
One lonely squash will just get eaten in a stir fry with the bok choy and maybe some garlic and onion.  Bok choy isn't my favorite, but luckily Stephen likes the Asian flavors.
We'll use the lettuce in salad.  We might even have BLTs this week with some local bacon.  I think everyone would like them as long as we hold the T for Sally and I.
I'm hoping for fewer tomatoes next week.