On Saturday, after the Roxboro Arts Festival, we headed to the Asian Festival.  Everyone was tired, but Nick didn't want to miss it.  It was hot and we were exhausted, but we went anyway.
Stephen works less than a block from location of the Asian Festival.  We decided that we'd be able to park in his lot.  That turned out to be a great decision.  Our trip to the Asian Festival started out with naps.
By the time we got from Cleveland Heights down to E.30th and Payne, both kids were totally asleep.  I pulled into the shade, rolled down the windows and snoozed a bit myself.  I didn't really fall asleep, but the calmness and quiet of the breeze was awesome.  It turned out to be a refreshing 45 minutes for everyone.
Once the kids woke up, we headed down the street to the festival.  Nick was excited to see the road closed for the tents.  The festival was well organized with a food court area, entertainment, kids area, and marketplace.  There were also lots of volunteers available to answer questions.
The kids were excited to see inflatables.  We entered the festival near the slide and the kids took a few minutes to wait in line for it.  After their trip down, I realized that many kids and wrist bands and maybe we were supposed to pay for the attractions.  We were hungry and headed to food anyway, so it worked out ok.
The kids were excited to see the Goodyear blimp flying overhead.  Usually, I spot it in the car, but it hides behind a building or tree before they can spot it.
After a quick pastry wrapped hot dog to eat, it was slush time.  It was at least 85 degrees in the sun and a cold drink hit the spot.  It was fun to watch some of the food tents from behind.  These ladies were frying up pot stickers.  Each griddle had 50 or so of them cooking away.
This vendor was frying up egg rolls in huge propane powered woks.  Each wok held at least 20 huge rolls.  There were also two tents with performances.  We took a minute to check out these dancers.  Sally likes everything musical.
Nick has heard of book-mobiles before, but this was his first time seeing one up close.  He loved going up into the bus to check it out.
We really didn't stay at the festival very long.  Everyone was tired from the busy day, but it was important to make a stop there since it was on our list.  Nick and Sally really like schedules and plans.  (I wonder where they get that from?)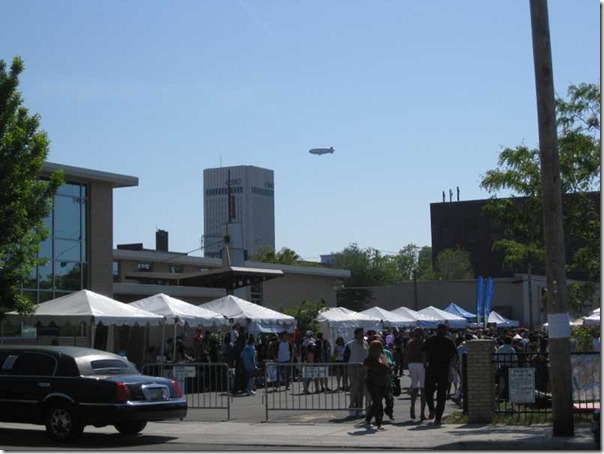 On the way out, we had another peak of the blimp and the marketplace.  I'd definitely try and make it to the festival again next year.  I look forward to trying out some different foods and taking in more of the culture of the festival.