One of my best friends is moving to Israel this week.  Between us, we have 6 kids and we have had a blast over the last year and a half.  Both of us are adventurous and have been on many outings with the kids.  I have fond memories of Lake Farmpark, the Akron Zoo, Squires Castle, picking lots of fruit, learning about canning, working out, and much more.  She was taking her kids to see Niagara Falls before they moved, so we drove up too.  The goal was to do the Maid of the Mist and Cave of the Winds.  We needed to take two cars, so I invited my mom to join us.  It's never bad to have an extra adult along.
Nick's and Sally's first view of the falls.  He said "WOW!".  They also loved seeing the boat from the observation deck.
We saw a double rainbow.  Since Nick just finished a camp about rainbows and light, that was timely.  The kids weren't into posing, but we took a few photos anyway.
My mom is so much fun!  Soon we were off to the boat.  We left my house just after 6AM, stopped to pick up sandwich fixings in Buffalo, enjoyed the observation deck, and were at the boat around 11:30AM.  I love taking clock photos.
The ponchos were hot, but Sally and Nick didn't mind.
I put my camera away for the boat ride.  I didn't want to take any chances.  After the ride, we noticed that there was a small boardwalk path up a few stairs near the exit.  It looked similar to how the Cave of the Winds would be, but shorter.  I took my friends baby and found a bench.  The rest of them ventured up the path.  Too bad we had already recycled the ponchos.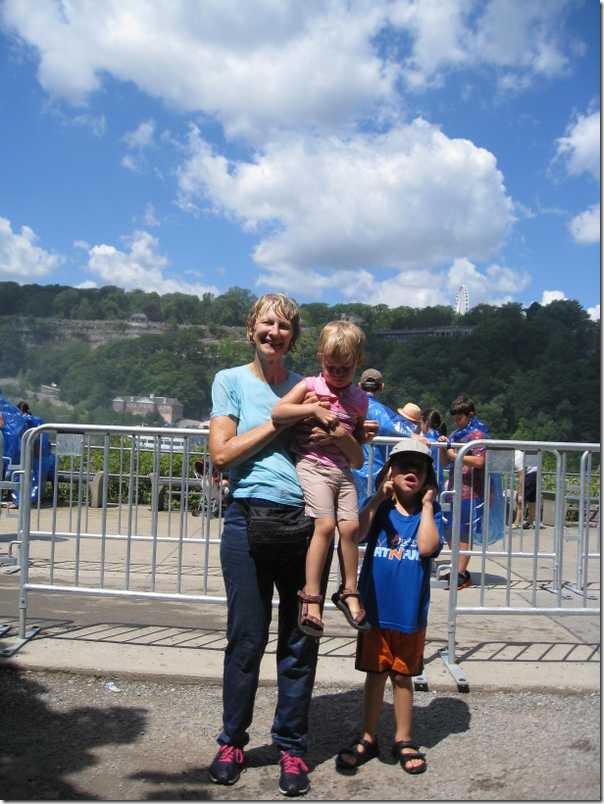 They were soaked from head to toe.  Although, I'm not sure the ponchos would have helped as I saw people ringing out their clothes in the restroom.  They had worn ponchos.
Here's my favorite shot of the falls from this trip.  The weather was perfect and I love the clouds.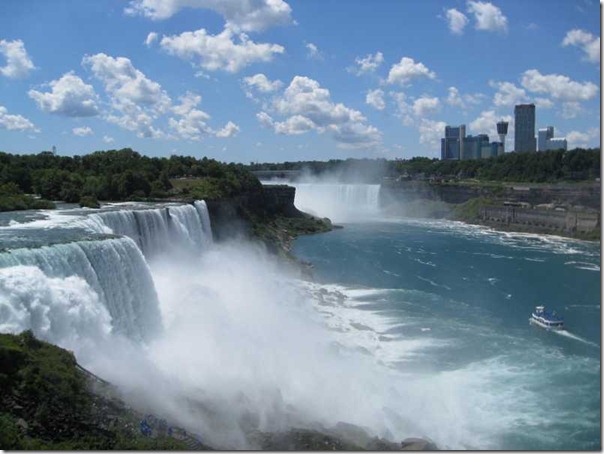 Here's my mom with the kids.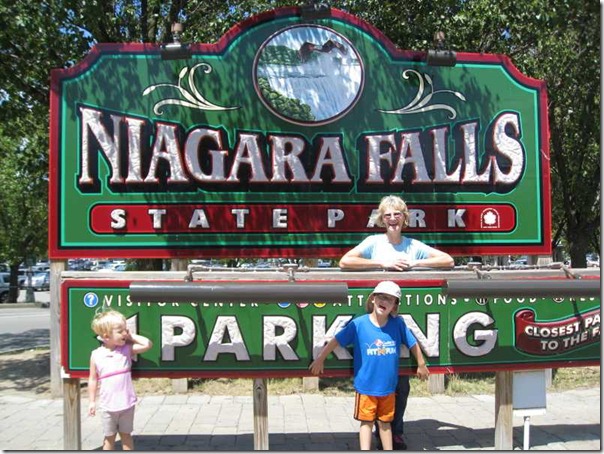 We opted to skip the Cave of the Winds and headed to the car for a picnic.
Soon, we were on the road back home and arrived just before dinner.  It was a great day!