Back in September, when I was in Oahu, I had decided that I really wanted to try snorkeling.  I was determined, but scared.  I had never done anything like that before.  The Hanauma Bay is stunningly beautiful and known for snorkeling.  After reading up on the preserve, I planned my trip for Wednesday.  The easy way to go to the preserve is by bus.  The parking lot fills up many days and they turn you away if you don't arrive early enough to park.  I made my way to the bus stop near our hotel and waited for the #22 bus.  After a few minutes, I noticed that the #22 bus didn't stop at the stop I was waiting at.  Oops!
The bus only runs once an hour and I had little time to figure out where to find the bus and get there before the bus came.  I made it with 3 minutes to spare!
It was so obvious that I was on the right bus.  Everyone that got on the bus was obviously going to the preserve.  They either had bathing suits, snorkeling equipment or other beach items with them.
The scenery was awesome.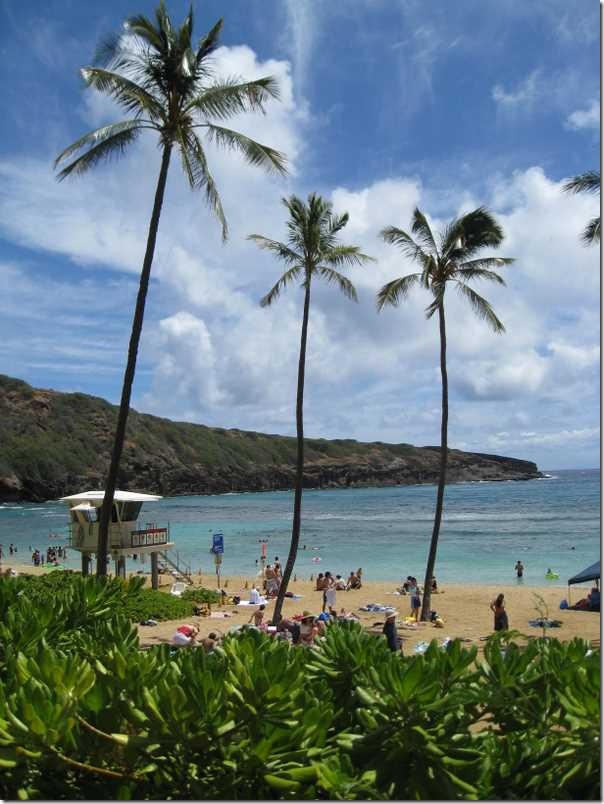 Once I paid admission, there was a 25 minute wait for the mandatory movie about the preserve and how to treat it.  During the wait, I looked at the exhibits and met Alison and Kelly.  They were in Hawaii for a conference and I asked them if I could snorkel with them.  I didn't think it was safe to snorkel alone.  After the movie, we had the option of paying for a tram or walking the hill.  We opted to walk the hill and stopped for photos, too.
Once at the bottom, we rented our equipment and locker and got ready.  The locker turned out to be a spot in the rental area.  They didn't have public access, but our bags weren't exactly locked up either. I had a small waterproof bag with me for my money and identification and felt ok with leaving my other belongings in the "locker".
I had bought a disposable water camera for this part of the trip.  Most of the photos weren't great, but here are a few worth sharing.
Here's a photo of me ready to go out in the water.  I put a shirt on over my suit since everything I read talked about how easy it was to get a sunburned back while out in the water.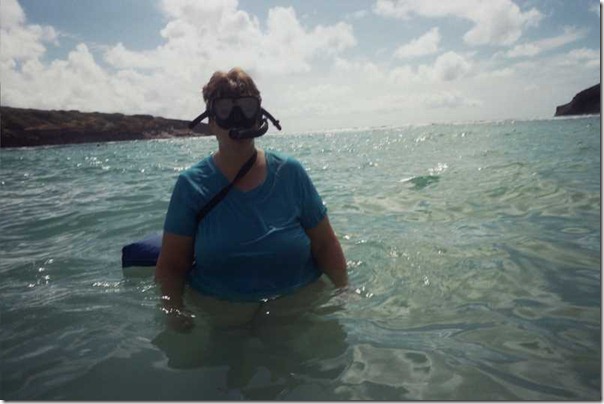 I saw lots of fish.  Sadly, many photos didn't turn out.
Here's Alison and Kelly.  I really enjoyed meeting them.  They were fun and made me comfortable with my snorkeling adventure.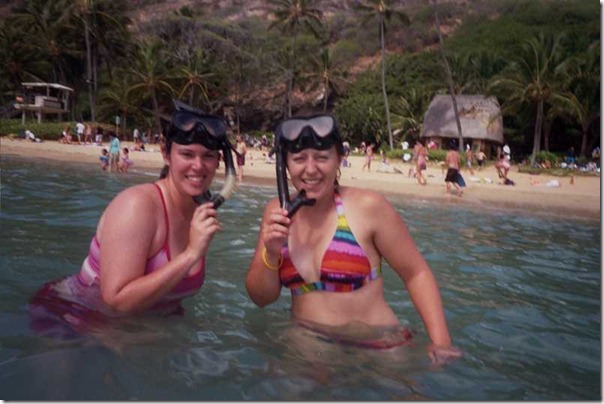 Snorkeling isn't something I would want to do every day, but I'm sure glad I tried it while I was in Hawaii.