The kids and I had a crazy busy day today.  So, when Sally was still sleeping at 4:30PM, I called Stephen and asked him to pick up our share.  I should send him more often!  He came home with 3 fruits.  We like to eat our veggies, but LOVE to eat fruit.
Here's a shot of what we picked up today: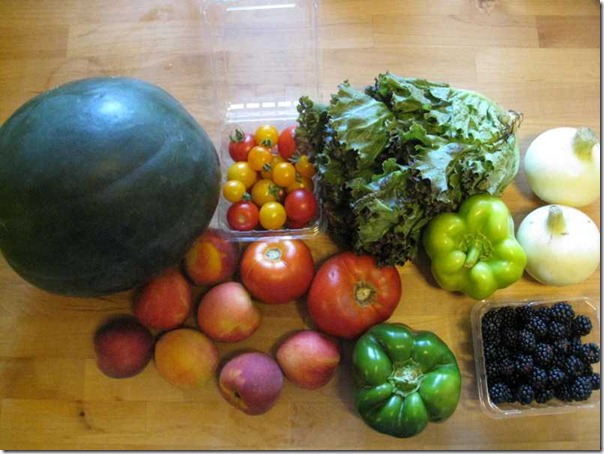 onions, lettuce
bell peppers (one in our share and one gifted from another member)
slicing tomatoes, cherry tomatoes
peaches, blackberries
watermelon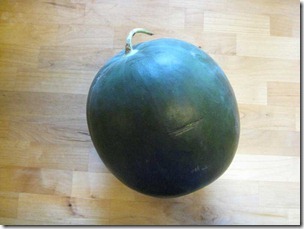 Since we picked 60 pounds of peaches on Sunday, I'm in clean the kitchen and canning mode.  So, this needs to be an easy CSA week.  The peppers, onions and slicing tomatoes are going to be frozen.  The blackberries will be great with breakfast tomorrow.  The lettuce will go into a salad with a cucumber from last weekend.  We'll eat the peaches in oatmeal as they ripen.  The watermelon can get in melon line.  We have a cantaloupe cut up in the fridge, plus two other melons that we picked up over the weekend.  Since everyone in our house loves melon season, we'll have no problem consuming it.  We made two quiches today and have some local pasta in the freezer.  We'll be having easy to throw together meals the next few days.