Because of Sandy, our Trick or Treat was moved to tomorrow, so we decided to pick up our share today.  I didn't want to be in a rush to put it away, have dinner and have the kids ready.  This is our last pick up for the summer season and also the coldest/wettest pick up.  I planned a nice butternut squash soup for dinner from the freezer today.  It's a great day for soup.
Here's a group shot of today's pickup: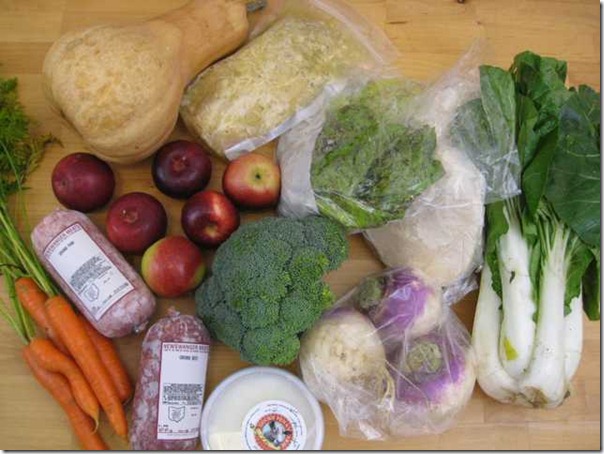 Here's what we were expecting to receive this week:
1 bunch carrots with tops
1 head jumbo white stem bok choy
1 lb. ground pork
1 lb. ground beef
1 head broccoli
1 butternut squash
2# turnips
1 bag salad mix, lettuce
2# bag of sauerkraut
1 quarter peck Empire apples
2 frozen pizza dough balls
1 package goat feta cheese
Baby Peppers (came in last week's package)
The carrots will make a nice simple side dish.  Everyone likes them in our house, so these won't last long.  The pork and beef is intended for meatloaf.  Maybe Stephen will make his famous meatloaf this weekend.  That would be delicious.
I've started looking at lamb recipes and found a Lamb and Feta Stuffed Cabbage recipe.  I think the feta will go into that recipe soon.
We were almost out of apples again.  Those will go into oatmeal.  I can't get enough winter squash.  I'll be roasting this along with pie pumpkins that I picked up today.  Uses are endless.
For the first time, we received fresh sauerkraut.  I'm excited to try it, but I am also glad that it will keep a while in the fridge, so there's no hurry.  This broccoli looks outstanding.
We'll have it as a side along with pizza for dinner tomorrow.  With Trick or Treat, we'll need an easy to clean up meal.  The lettuce will go into salads tomorrow or Saturday.
I'm not sure about the bok choy, but I am thinking a stir fry like we made with the Napa cabbage last week.
I don't have any current plans for the turnips, but I am glad they will last a while.  Maybe we'll make soup later in the week.
I've enjoyed trying out the large package this year.  I'd never go back to the small.  I love the bag size for us.  It worked really well.  I'm not interested in the full access package.  I like getting the variety in the large and then supplementing with extras as needed.