Today, I had a rare pick up without the kids.  I had been at a doctor appointment and headed up to the high school from there.  It was strange.  I havemixed feelings about today's bag.  I have "go to" uses for so many of our CSA items, but mustard greens, mixed greens (braising?) and Napa cabbage are not included.  But, there are many items like cider, beans, squash, cheese, apples, etc. that I am excited to see.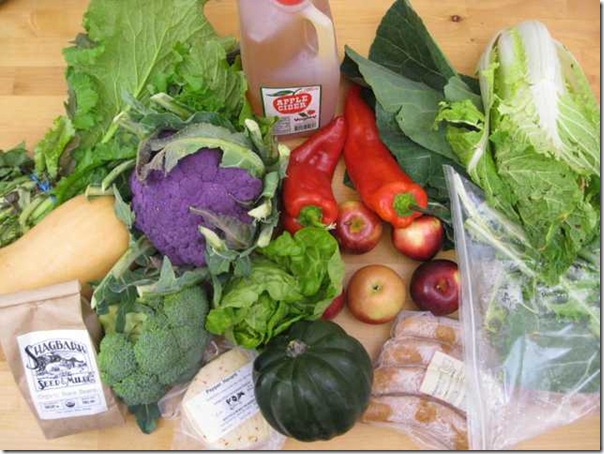 Here's what we were expecting to receive:
1 head Napa cabbage
1 8 oz. chunk pepper Havarti
1 bunch mustard greens
1 lb. black beans
1 half lb. mixed greens
1 head broccoli
1 acorn squash
1 half gallon apple cider
1 quarter peck Empire Red apples
1 bunch collard greens
1 butternut squash
2 ct. red peppers
1 head cauliflower
1 head leaf lettuce
1 package, 1.25 lb., Andouille sausage (Smokey, Spanish sausage)
I roasted lots of butternut squash this week.  I think I'll save this one for a few days and then try the squash/bean burritos that I read about last week.
The local broccoli is always delicious.  I'll use it for a side dish soon.  I love that we received purple cauliflower.  It is really bright and fun!
Pepper cheese is not usually my favorite, but this cheese is really good.  I'm probably going to have it with eggs.  The lettuce is very crisp looking and also a really small head.  It will make one individual salad.
I haven't made my stuff acorn squash yet this season.  This might just be the week for it.  The peppers will get chopped for salads.
Apples tend to disappear without any work.  We put the sausage in the freezer.  I see some more of the sweet potato hash in our future.  The kids thought it was too spicy, but Stephen and I can eat it for lunches.
I'm too tired to think much about the greens.  I read up on mustard greens, so I am a little less afraid of them.  But, I still don't know what my plan will be.  We get these bagged mixed greens often, so I need to figure out a way to use them.  I just think they are bitter.
I'll probably chop the collards and cook them with taco meat.  I have no idea about the Napa cabbage, so I need to look at that one on line.
I'm surprised that the cider has been here for several hours and is still unopened.  Nick, Sally and Stephen will love it.  It's too sweet for me.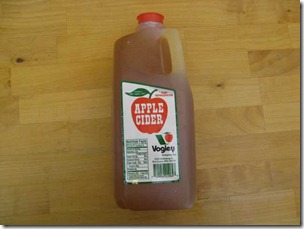 Weeks like this leave me in awe with the huge variety of items that we can obtain locally.
I have a full day tomorrow and then Sunday will be "use the greens day".