Saturday, we attended a graduation party for my cousin Jake.  Shortly after we arrived and had dinner, the kids enjoyed making snow cones.  It was very exciting.  It was perfect for the hot day!
Shortly after eating and socializing with family, it was time for the main event.  The stage was set for The Blue Ribbon Bluegrass Band.
We have some talent in our family.  My uncle plays the Banjo, my cousin plays the Mandolin and my brother plays the Fiddle.  We enjoyed the music.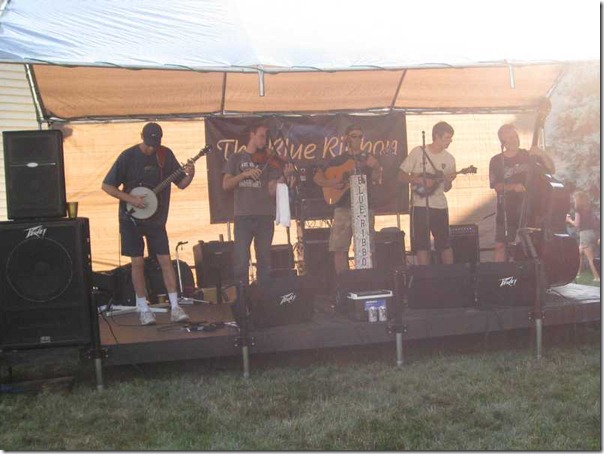 My cousin is the official photographer.  I made sure to snap a few photos since she's not usually in the photos.  Sally sure enjoyed all of the attention.
The adults listened.  The kids danced, and danced, and danced.  Nick and Sally were nonstop during almost the whole set.
Soon Sally was so tired, she just laid on the grass.  We left during the break between sets because we didn't want the kids to throw a tantrum leaving during the music.
Nick was still sad to leave.  I told him it was already late and he needed energy for Sunday.  He said he had 100 energies and could keep dancing.
Neither of them slept a wink on the way home and at 6AM Sunday, they were up!
It was a great party.  We were so glad to share it with our family.