Today, we had plans to go up to Wickliffe Lanes to bowl.  We usually just get a party lane.  For a flat rate ($35) on Sunday, you can have up to 6 bowlers on a lane and that includes shoes.  It's easy and they are good at accommodating groups.  On Friday, when I called to reserve, I had to leave a message.  On Saturday, I didn't hear from them so I called to follow up.  They didn't have any lanes available.
So, instead, we found ourselves at Freeway Lanes.  Freeway Lanes was hosting a tournament this weekend, but was to have open bowling at 4PM.  At 4:45PM, we were finally able to get a lane.
It turned out to be a bit cheaper than Wickliffe.  $3 a person per game and $3.50 each for shoes.  The guy at the counter didn't make the parents get shoes (even though we clearly were going to help the kids).  He also didn't really have shoes small enough for 2 of the 4 kids, so he only charged us for 2 pairs.  Then, our friends had coupons for 2 free games.  For $13 the 4 kids bowled 6 frames.  Our kids don't usually last much more than a game, but with the late start, everyone was getting crabby and hungry, so we left part way through the game.  It didn't help that naps we pretty much non-existent today.
Another advantage of Freeway Lanes was the Bowling Ball Ramp that was available.  I think that most alleys have them available for handicapped bowlers, but they are also common for little kids.
In this photo of Nick, you can see him lining up the ball on the ramp.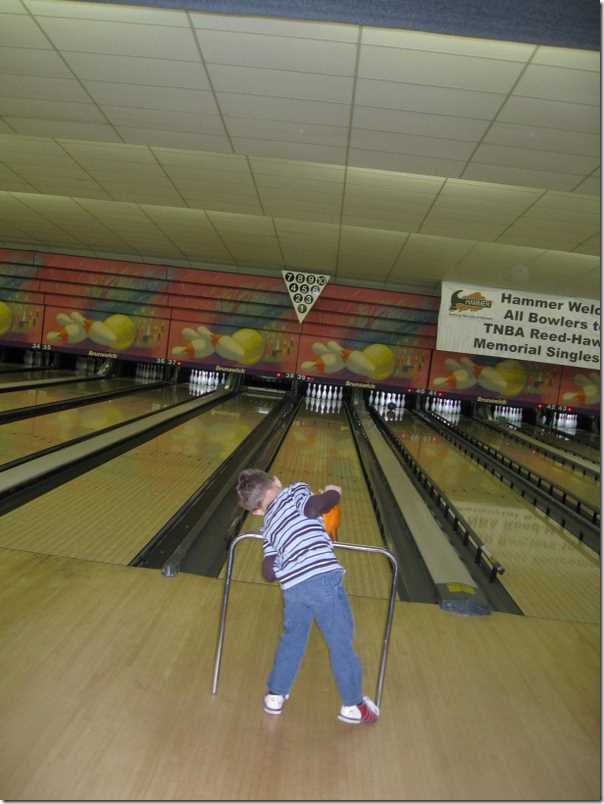 Sally can just about bowl by herself with the help of the ramp.  Nick likes to watch the ball from the ramp view.
As a parent, I like the ramp because it makes the ball go much, much faster.  That means, the game also moves faster and the kids don't get so bored between turns.  Some snacks help with the boredom factor, too.
After bowling, we headed to Red Robin for dinner.  It was packed.  We think there were more people out than normal due to the President's Day Holiday tomorrow.
I'd definitely consider Freeway Lanes for our next bowling outing.