Today was a perfect autumn day for a CSA pickup.  We had some logistical issues this week and at one point considered Solon, Mayfield, Beachwood, Hudson and Mentor as possible sites.  We ended up making it to our normal spot at Mayfield.  I was glad to visit with Kirsten and Robert for a bit during a slower time.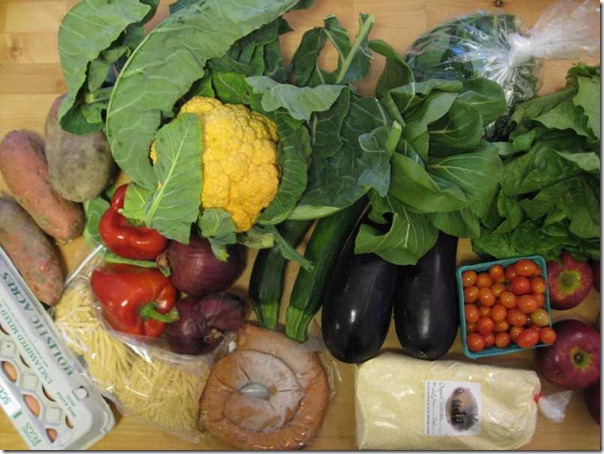 Here's what we are expecting to receive:
1 dozen eggs
3# sweet potatoes
1 head cauliflower (some will be cheddar, purple, or green varieties)
1 head leaf lettuce
1 head baby Bok Choy
1 pint grape tomatoes
1 lb. chorizo sausage links
2# cornmeal
2 ct. red peppers
Red onion (s)
2 ct. zucchini
Approx. 1.5 lbs. tomatoes
2 ct. eggplant (or 1 if they are enormous)
1 lb. pumpkin sage linguini
1 quarter peck Cortland apples
They were out of slicing tomatoes.  I was happy since I was offered spinach as a replacement.  I have too many tomatoes in the freezer already.  Everything else on the list was dead on!
I'm behind on egg use a bit.  I see some hardboiled ones in our future.  Maybe I'll make a small batch of deviled eggs for Sunday's pig roast.  We'll use the peppers in eggs and salads this week.
Last year, we found that either Andouille or Chorizo could be used in this recipe.  So, it's definitely on the agenda for this week.  I remember it being extremely delicious.
I tossed the pumpkin sage linguini in the freezer since we have a busy few days ahead.  I'm sure it will be tasty.  I've never met an Ohio City pasta that I didn't like.
I'm going to make a veggie lasagna this week.  I'll use the squash and eggplant in that dish.
We haven't picked any tomatoes from our garden lately.  I'm sure these will be welcome snacks.
I'll sauté the Bok Choy for Stephen one day.  He likes the Asian flavors.  The apples will be great for our oatmeal.  We made all of our other apples into sauce.
The lettuce will go for salads.  The cauliflower will make a great side dish with some chicken we have ready to eat in the fridge.
To make make room for our 1/2 lamb, I'm making a pot of chili.  Some cornbread will make a nice side to go with it.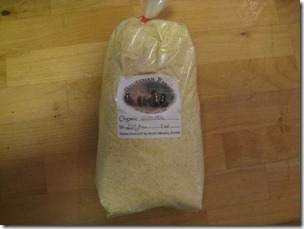 I'm glad it's cooler out and love cooking this time of year.