Today was our pick up for week 3 of the winter Geauga Family Farms CSA.  The truck was 45 minutes late!  We had a full morning packed and had to rearrange our schedule due to the delay.  The truck is supposed to get there at 8:30AM and pick up time is from 8:45AM until 10:15AM.  The truck arrived at 9:15AM.  I had gotten there at 8:45AM.  I had a nice chat with the St. Noel volunteer Kathy.  It's a great pick up site, but I really miss my Tuesday pick up.  We are just so busy on the weekends that we don't have much flexibility.
Here's a group shot of what we received: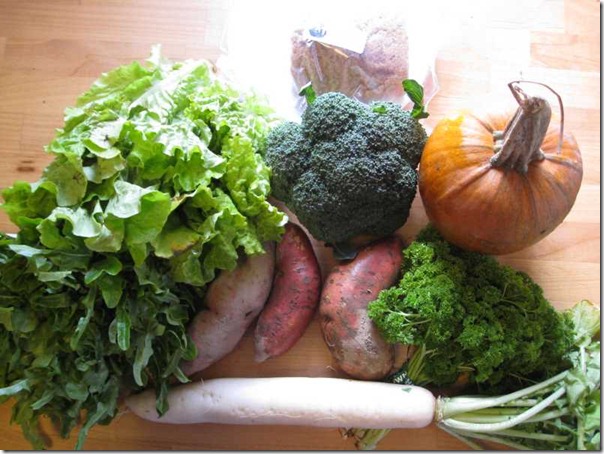 Let's take a closer look:
Small pumpkin roll, daikon radish
Pie pumpkin, parsley
Sweet potatoes, oak leaf lettuce
Leaf lettuce, broccoli
We enjoyed part of the pumpkin roll today.  That will disappear quickly.  I'm not sure what we are going to do with the daikon radish.  I think I'll make some pumpkin puree for smoothies and pancakes with the pie pumpkin.  I'm going to try to make parsley potatoes with the parsley.
We were out of lettuce, so a few salads are in order.  The broccoli will get used as a side with leftover chicken tomorrow.  We still have a few sweet potatoes left, but we'll be making sweet potato fries this week.
With the exception of the daikon radish, everything is common and will be very easy for us to use up.  It's a good thing since we get a regular and a Thanksgiving package pick up on Tuesday with our other CSA.  I miss the eggs.  The winter CSA was supposed to have eggs each week, but there's been a shortage.  Hopefully, we'll get some eggs in the last couple of weeks.  The Geauga Family Farms CSA runs for 6 weeks and we are half way done already.  It goes so fast.