We have plans tomorrow evening, so we picked up our CSA in Beachwood today.  There was quite a line when we arrived, but it moved quickly.
I love the colors this week!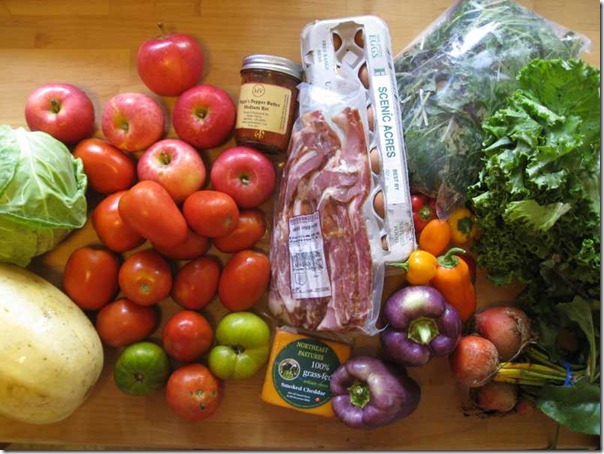 Here's what we were expecting:
1 bunch golden beets
Approx. 2.5 lbs. San Marzano Roma Tomatoes
Either heirloom tomatoes or 1 pint grape tomatoes
1 pint yummy pepper mix (all sweet peppers)
1 lb. Berkshire bacon
1/2 lb. mixed baby greens (chard, kale, arugula, mizuna, and more)
1 head cabbage
1 quarter peck Gala apples
1 head broccoli
8 oz. grass-fed smoked cheddar cheese
1 half pint of either Pappy's pepper butter (like a sweet and tangy homemade mustard) or 1 half pint of Pappy's Candied Jalapeños (semi-hot jalapeños in a honey syrup)
A handful of colored peppers (red long peppers probably early week and purple peppers later week)
I'm not sure what happened, but we ended up with eggs and spaghetti squash.  We didn't get broccoli.  I can see the switch with broccoli and squash – but eggs?  We also got lettuce, but I think that was a deliberate attempt at BLT ingredients.
I have two spaghetti squashes.  I'm thinking about making it Italian style and serving it like spaghetti.  I think everyone in the house will eat it like that (especially with cheese on it).  The head of cabbage is pretty small.  I think I'll keep it a few days and then make some of my coleslaw.
We'll be eating apples in our oatmeal.  Also, I ordered a new dehydrator and I'm anxious to try fruit rolls, so some puree might be in order.  These are really good paste tomatoes, so they'll end up in sauce at some point.  For now, the freezer will be their home, along with the heirloom tomatoes.  We have an over abundance of tomatoes this year, but we aren't getting them all at once, so it's harder to make and can sauce.
The Pappy's Pepper Butter is medium hot.  I'm not a fan of hot things, but I'm determined to try this and a few other things that are on our shelf soon.  My goal is to eat from our house as much as possible.
Delicious bacon never goes to waste around here.  I didn't get it in the freezer right away, so it's thawing in the fridge.  We'll probably have it on Saturday or Sunday.  I wasn't expecting eggs and we have an overabundance.  I'm going to gift a dozen to my mom since she's helping with the kids tomorrow.
I don't think I've ever tried this cheese, but there are very few that I don't like.  All of the peppers this week should be sweet (not hot!) and I'm happy about that.
We also got some mixed greens.  This batch looks pretty good to me, so I'm going to have a big salad for lunch tomorrow.  I've gotten away from lunch salads and need to get back to them since they are delicious.
We still have some beets from the other week, so I am going cook all of them all of them tonight or tomorrow.  I'll probably make a big batch of Harvard beets since we haven't had them for a while.  The lettuce looks very tasty and will be good in salads or maybe a BLT.
There's 7 weeks left and I'm already getting sad that the season will be ending soon.  It's a good think there's a winter program starting sometime in November.