Since we had my niece and nephew this week, we waited until today to pick up our share in Mayfield.  Although I did stop in Beachwood yesterday for yogurt and milk since we needed to replenish.
Here's what I picked up: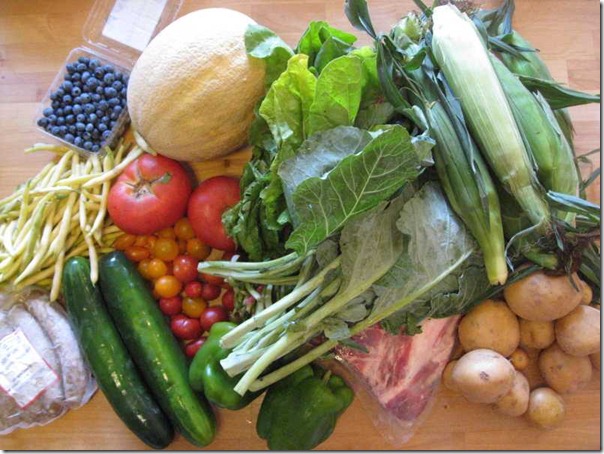 Here's what we were expecting to receive:
1 pint blueberries
6 ears sweet corn
3 lb. Yukon gold potatoes
1 bunch rainbow Swiss chard
1 bunch collard greens
2 ct. cucumbers
1 pint cherry tomatoes or approx. 1.5 lbs. heirloom tomatoes (about 3 depending on size)
1 package chicken bratwursts
1 lb. yellow wax beans
2 ct. green peppers
1 cantaloupe
1 package pork spare ribs
1 jar Pope's BBQ sauce
It looks like we got regular slicing tomatoes and some cherry tomatoes.  We were also shorted the BBQ sauce, but my husband was able to pick it up on his way home from work.  So, it's here, but missed its photo opportunity.
We'll have the chicken brats for lunch or dinner on Sunday.  We'll either grill them or braise them in beer.  The kids have really been enjoying the cucumbers for snacking.
I'll be making some fajitas Sunday or Monday.  I'll use a couple of onions that I still have along with the collards or chard and peppers in them.  The blueberries will be lucky to be around after breakfast tomorrow.
We never got around to our Ohio City pasta last week, so I'll probably make the béchamel sauce this weekend and use the tomatoes.  The cherry tomatoes will make good snacks for the guys of the house tomorrow.
The beans will make a great side dish in the next couple of days.  We'll probably cut the cantaloupe up this weekend and eat it, but I am interested in trying Jane Snow's cantaloupe gelatin dessert recipe.
Both the corn on the cob and ribs are on tomorrow's lunch menu.  I think we'll be grilling!
The potatoes will last a few days, and I don't have an immediate plan for them.  Either the collards or chard will go into our fajitas.  The other will probably go into a quiche or just be sautéed for a side.
It's been fun getting the large from our Fresh Fork CSA.  But, on Friday evenings, our fridge is packed to the max.  We have been trying to use local eggs, milk and yogurt.  When we add that stuff to the contents of our bag, it makes for a well stocked kitchen.  It also means that we don't need the grocery store much and prioritize our meals to use up bulky items first.  I can't wait to see what we are getting next week.