It's week 14 of the Fresh Fork CSA winter subscription.  It's hard to believe that the summer season starts on June 6th.  I also read this week that local strawberries are about 4 weeks out.  It seems crazy that we'll have strawberries before the CSA starts.
Here's a list of what we were expecting to receive this week:
1 package chicken brats
4 oz. feta cheese
1/2 lb. mixed salad greens
1/4 lb. ramps
1 lb. fresh ramp pasta
1 bag/bunch of kale or chard, depending on what the farmers harvest
1 quart yogurt
1 quarter peck Fuji apples
2 lbs. butter, salted or unsalted
Here's a group shot: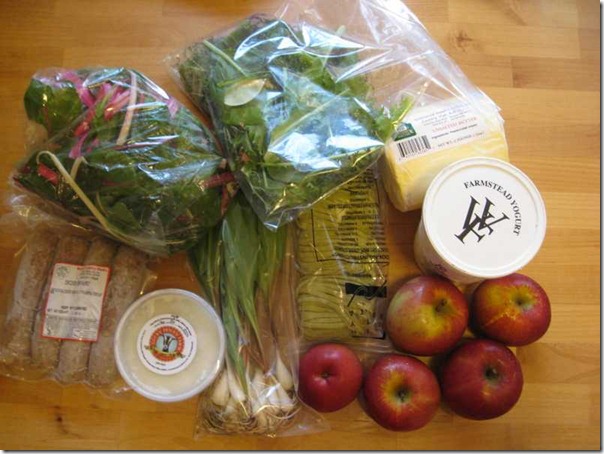 We'll put the chicken brats in the freezer.  They will make a good meal one day this week.  I'll use the Swiss chard to make a quick side dish.
We'll use the feta cheese and mixed greens in salads.
Last time, we used the ramps in meatloaf that worked pretty well.  I'm thinking of putting them into ham loaf or a frittata.  I think the ramp pasta will go well with the leftover sauce from yesterday's dinner.
I bought some apples yesterday to tie us over until today's pickup.  We love putting them in our oatmeal.  We still have some butter frozen that I've been using up.  Since I'd like to rotate my stock, I'll be freezing this butter.  We chose the unsalted butter.  I can't remember the last time I used salted butter.
Getting yogurt in the bag just means I buy less extra ones. It's always welcome. I wish it came in a gallon size. The big restaurant size is something like a 3 gallon container and it won't fit in our fridge.  So, we got one in our package this week and I purchased 3 extra.
The bag this week is great, but I'm looking forward to more photogenic produce.  I miss the weeks were we had so many colors of the rainbow.