Today was a crazy day.  We ran errands before our trip the gym.  Then, we had an indoor picnic before heading home.  Sally napped for a short time.  Nick napped for a short time after I decided that driving them around in the car was my best bet for some quiet time.  Then, it was off to swimming.  While Nick took his lesson, Sally and I swam.  By the time we made it to pick up our CSA, I was pretty done.  I was glad that they weren't busy and we were able to do a rare drive thru pick up.  Thanks to Eric and Robert for having bags all ready to go.  It was great with the tired kids!
Here's what we were expecting to receive this week:
1 pork roast
1 half pint raspberry jalapeno jam
1/2 lb. mixed salad greens
1 pt. pickled banana peppers, hot or medium
Frozen fruit (cantaloupe or watermelon, great for smoothies)
1 head cabbage
2 lbs. turnips
1 lb. cracked black pepper linguini
quarter peck Fuji apples
Here's a group shot: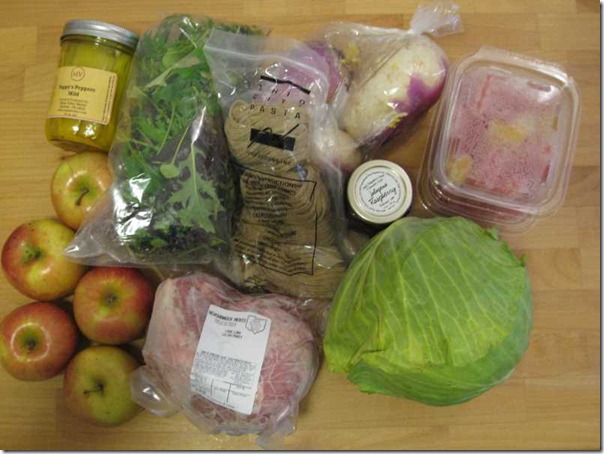 Apples are always welcome for snacking and oatmeal.  I'll probably do the roast in a crockpot recipe this week.   I'm trying to use the crock pot more so we can enjoy dinner without last minute prep and cooking.  It really helps with the dishes if we only have to do the ones we used to actually eat after dinner time.
I'm at a loss with the peppers.  We don't really eat much hot food.  These are supposed to be mild so maybe they will appear in some fajitas or chili soon.  I'm hoping the jam is more sweet than hot and that the jalapeno adds more flavor than bite.  I'll have to let you know.
The greens are pretty standard.  They aren't really my favorite this time of year.  The frozen fruit will be lucky to be in our freezer by this time tomorrow.  The kids are excited about smoothies.
The Fresh Fork CSA staff has been giving us lots of ideas for the turnips.  I haven't decided which recipe to go with, but I want to use them tomorrow or Saturday. I popped the pasta in the freezer.  It will make a quick meal one day this week.
I've been making unstuffed cabbage with much of our cabbage this winter.  It's easy and I can make it in the crockpot.  I suspect that will appear on our table this week.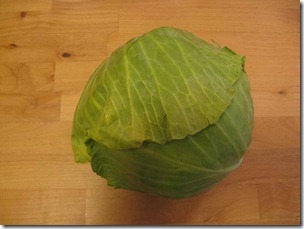 Even with the drive thru pickup, we still had our $3.50 ready just in case Robert had some corn chips.  Everyone was hungry after swimming and these kept everyone entertained for the drive home.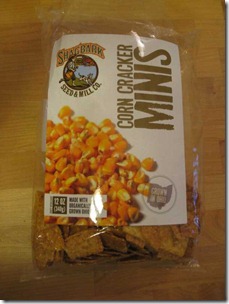 I really like the variety of staple and storage items that we get to try out during the winter CSA, but I'm glad it's March.  I hope the spring weather treats the farmers well.  I'm really getting in the mood for summer fresh produce.