This week in our CSA, we received many items that fit into a Mexican theme.  It seemed appropriate to create a taco salad.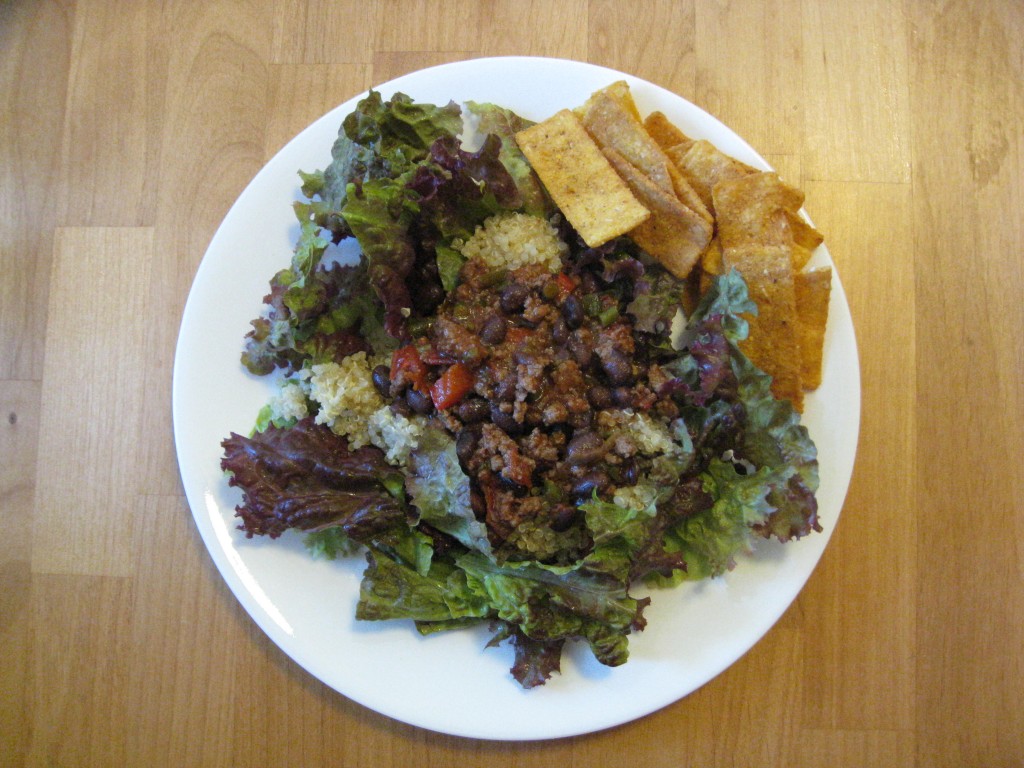 [print_this]
Recipe: Taco Salad
Summary: All ingredients are approximate as I don't really measure much.
Ingredients
1 T olive oil
3 garlic scapes, chopped
3 green onions, chopped
1 pound local grass fed ground beef
1 cup black beans (already cooked or canned)
2 tomatoes, chopped
1/2 cup water
4 T Penzeys taco seasoning
2 cups quinoa with cilantro, prepared
handful of corn chips per person
bed of lettuce per person
Instructions
Heat olive oil in skillet.
Add garlic scapes and onion and cook for a couple of minutes.
Add ground beef and cook until beef is almost done.
Drain off grease and return to pan.
Add tomatoes, beans, water and taco seasoning.
Stir to combine. Bring to a boil, simmer until tomatoes are done and sauce is thickened.
Assemble 1/3 cup quinoa and 1/6 of the filling on top of the lettuce.
Add a handful of corn chips to each plate.
Quick notes
To make the quinoa, use a rice cooker. You need 1 part quinoa to 2 parts water. I used previously frozen chopped cilantro that was frozen into ice cubes with water to make up some of the water. Add the cubes to a measuring cup and fill with water to desired level. You can always add fresh cilantro or leave it out.
Preparation time: 10 minute(s)
Cooking time: 20 minute(s)
Number of servings (yield): 6
[/print_this]