Today, there was no rain for our Fresh Fork CSA pick up.  There was also no line at the time we arrived.  This week's package was also easier to pack than some and I think that helped.  We'd rather have snow on the ground that rain coming down for our pick ups.
Here's what we were expecting this week:
1 whole pasture raised chicken
1 lb. carrots
1 lb. Brussels sprouts (removed from stalk)
2 lb.s beets
1/2 lb. mixed organic greens
1 dozen pasture raised eggs
2 lbs. organic black turtle beans
1 smoked pork hock
1 lb. roasted butternut squash and cracked black pepper linguini
We were also expecting 1 pound of ground beef that was missed for everyone at Beachwood last time.
Here's a group shot: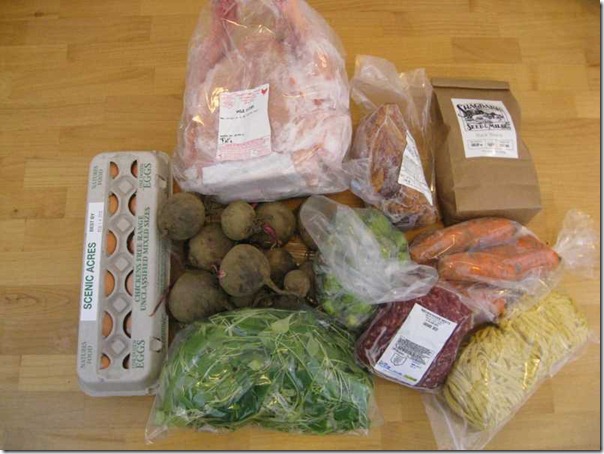 We didn't have many eggs left and use quite a bit in everyday cooking.  So, I was glad to have these in the bag this week.  I also have some frozen egg beaters that I need to work into some recipes soon.  Surprise, surprise, we'll be making Harvard Beets with the beets this week.
I was originally going to make this pasta for dinner, but we had other pasta in the fridge and opted for a quicker dinner tonight.  The Ohio City pasta cooks fast, but I usually make a white sauce to go with it and the leftovers were easy tonight.  We'll save that for another day this week.  Everyone in our house loves cooked carrots.  Now that Stephen can eat raw ones again (since getting his braces removed), we may have to discuss how to prepare them.
We'll have the Brussels sprouts tomorrow.  Last time, we let them go too long and I think they lost some of their flavor.  The greens will hopefully go into salad.  I'm not the biggest fan of this variety, but I need to get better of just eating them.
With pork hock and black beans in the same week, black bean soup is in order.  I've been looking at recipes for a couple of days and haven't quite decided on a version for us yet.
Our chicken is 7.8 pounds!  That is definitely the biggest Fresh Fork chicken we have have gotten thus far.  For now it's parked in the freezer along with our ground beef.
Lastly, the warehouse did a "blow out" sale on the ham loaf.  We remembered it fondly so I stocked up.  It was $2 a pound.  I like to describe it to people as ham based meatloaf mix.  I will be making meatballs and muffin size meatloaves with some yet to be invented rhubarb honey BBQ sauce and then freezing them for meals.  I'll serve them with potatoes, different grains, pasta, etc.  I like to bake them and freeze in big batches so we can get several meals out of them.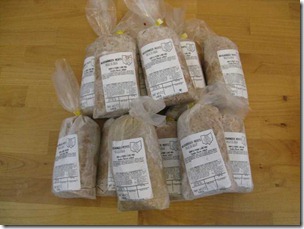 Lastly, this is the first time that I got to take photos of my CSA pick up with my new lights.  I think that I have tons to learn, but it's a huge improvement over the dark photos of recent weeks.  I'm mostly intrigued by how different the wood table looks in the photos when I think I had the same lighting and camera settings for all of my photos.  I think that the angle of the camera has a big impact.  I think I'll be learning how to use a tripod next.  Hopefully, I'll have a some time to experiment over the next couple of weeks.