Today, since I was in Akron spending time with family, Stephen and the kids picked up our Fresh Fork CSA.  Again, there wasn't any rain, but there was lots of snow this week.  It sounds like the pick up was smooth.  Thanks to Stephen for taking the photos for this week.
Here's what we were expecting this week:
1 slab Berkshire spare ribs, approx. 2.5 lbs.
1 pint homemade BBQ sauce
1 lb. stew beef
1 8-oz. portion mixed salad greens
3 lbs. roasting potatoes
2 lbs. organic spelt flour (substitute for your all purpose flour)
2 lbs. organic sweet corn, frozen
1 package Italian Sausage links, approx. 1.25 lbs.
Here's a group shot: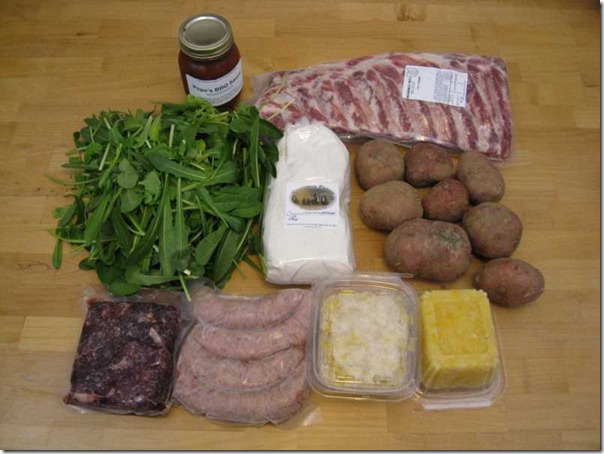 We had some of this frozen corn at Thanksgiving time.  It was so tasty.  For now, this corn is in the freezer.  We'll eat the greens in the next couple of days.  They look very fresh and tasty.
We put the ribs and sausage in the freezer also.  With my grandpa's funeral this week, we aren't eating many meals at home.
Eventually, we'll use the stew meat in some stew.  The flour is easy to use in our everyday cooking.
This BBQ sauce was a hit this past summer.  We didn't get it in our share, so I'm glad we have the opportunity to try it.  We were out of potatoes, so it will be easy to make a meal with this early next week.
Winter has arrived, so we have many shelf stable/freezer items this week.  I'm glad that it will be easy to use everything without any waste.  I plan to get back into the home eating cooking groove by Monday.