It's finally strawberry picking time!  It's actually 2-3 weeks early for most farms, but with all of the hot weather, it seems like we've been waiting on them.  I was in Maryland over the weekend.  None of the Ohio farms were open for picking when I left (most are open now), but in Maryland picking was already going on for the last week or two.  I researched U-pick farms near Elkridge, where I was staying.  There were really only 2 places.  One was an hour away and Larriland Farm was 30 minutes away.  So, my niece, nephew and I headed to Larriland on Saturday morning.  Picking opened at 9AM, which I thought was a bit late, especially given the expected heat.  We arrived about 5 after nine and there were already lots of cars parked near the fields.
We picked up boxes and checked out the pricing.  The price seemed reasonable to me.  Later in the weekend, I found $2.99 a pound for CA strawberries on sale in the local grocery store.  To the right is the view of the field as we approached.  The farm was well organized and staffed.
It was L and L's first time picking.  My niece was really into it.  Both kids did just fine.
I was surprised to end up with almost 12 pounds of berries.  It was very hot and sunny and that made for some tough picking.  We learned on our way out that they were about to turn on the sprinklers.  At $2.59 a pound, we spent $28 on berries.  They have been delicious.  We ate quite a few at my sister's house this weekend.  We also made strawberry lemonade spritzers to drink.  In addition, I froze a gallon or so.  On our way out, I wanted to check out the U-Pick Swiss chard and spinach.  I had never picked either one.  I knew that I could just eat some spinach for lunch, so we spent a few minutes in the field.
We ended up picking 72 cents worth of spinach.  It was really an afterthought!
Larriland had a nice barn market near the entrance to the fields.  They sell cheese, produce and other items.  I bought some Italian Colby Cheese that was really good. Near the barn, there were port-a-potties set up with running water sinks.  There weren't restrooms in the fields as far as we could tell.
Unfortunately, there was an accident near the entrance during our stay.  It looked like everyone was ok, but 2 cars were towed.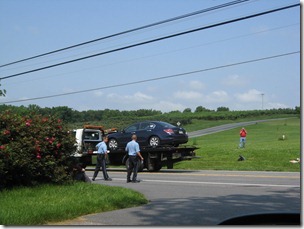 We had a good time and we'd visit the farm again.  This farm offers U-Pick in many different items.  I could see me taking the kids there again in June and July when I am in town.  I'm hoping for blueberries next!