Stephen and I have always been a fan of Iron Chef America.  We have watched it for a long time.  We enjoyed watching The Next Iron Chef for the last couple of seasons as well.  It was extra fun watching Michael Symon win.  When I heard that Jonathon Sawyer was going to be on Iron Chef yesterday, I knew I wanted to watch it.  Usually, we DVR the show and watch when it's convenient, but I didn't want a spoiler.
Shortly after I heard he's be on the show, I heard about the watch party at The Greenhouse Tavern.  Before I could ask Stephen out on a date to watch and find a sitter, it was sold out.  I was bummed, but knew we could watch the show at home.
Shortly after finding out about the sell out, I read at Chef's Widow that a second watch party would be happening at NoodleCat.  I registered for the event and then confirmed with our sitter and Stephen.  We ended up going to the watch party last night, even though we were both exhausted from the week.
We are so glad that we went!  We parked in a lot on Prospect and walked over to the restaurant.  Noodlecat is located close to The Greenhouse Tavern, so it would be easy for the Chef to visit at both parties.
We were greeted at the tour and told we could sit anywhere.  80 seats were sold and they expected a full house.  This Tweet memo was at our table.  I was glad they had Wifi so I could try out my tablet.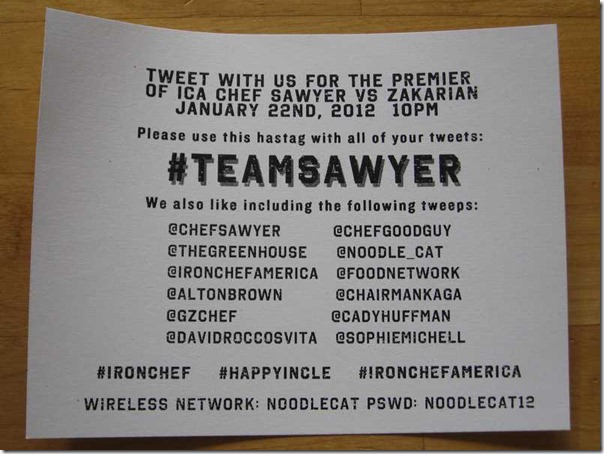 We arrived just after 9PM.  They were offering a limited menu and we ordered a couple of sodas and BBQ Ohio Pork Belly Buns.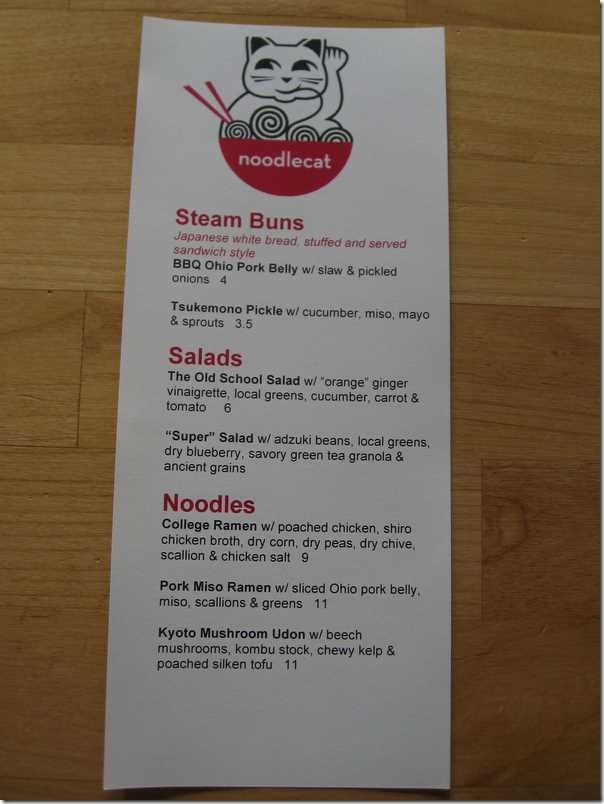 There was also a contest to guess the secret ingredient.  I guessed apples.  It was not correct.  No one guessed MINT, so the contest turned into a random drawing.
There was also a TV set up with one of the playoff games and a large screen running the Twitter Feed.  Chef Sawyer and his sous chefs walked back and forth from The Greenhouse Tavern during the show.  It was fun to see all of the positive energy.
Once the show started and the ingredient was named, we were given these.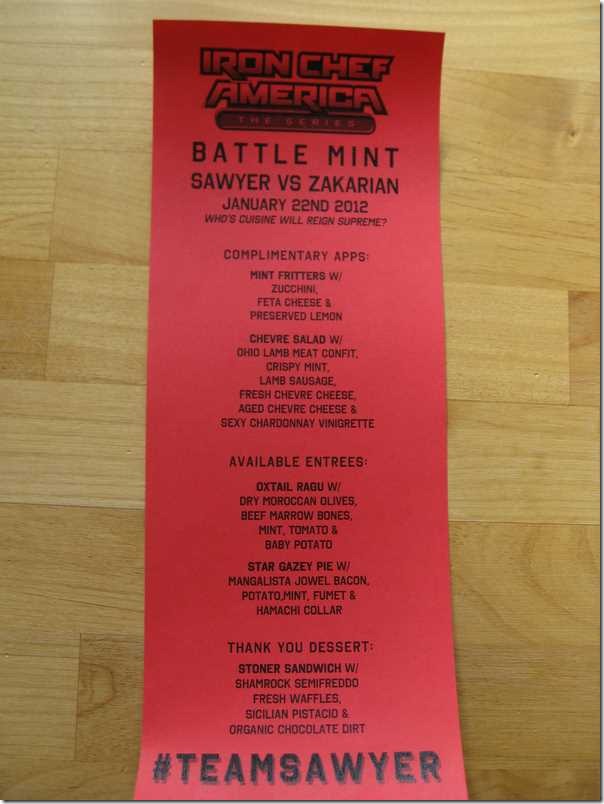 Throughout the show, we were given a variety of appetizers to enjoy on the house.  They were all fabulous.  We had a fritter course, a salad course, and a chicken wing course.  At the end of the show, we sampled the Stoner Sandwich.
My photos didn't turn out so great since there wasn't much lighting.  Here's the crew just after the verdict on the show.  Chef Sawyer is the one clapping in front.  He didn't win, but he did Cleveland proud.  Chef Sawyer is a class act.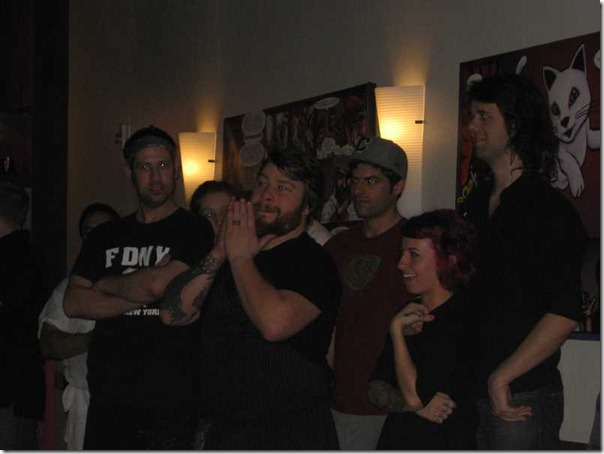 We had a great time and are so glad we stayed up late to go out on a work night.  I'm even more excited to try The Greenhouse Tavern soon.