Today, we had our second pick up at the new Mayfield location.  Dan and Kyle were pretty busy when we arrived, so we didn't get a chance to talk to them.  Everything looked like it was running smoothly.  I'm still getting used to reading the rest of the share list.  Since this is our first time with a large, I keep forgetting to read past the "small CSA share" list.
Small CSA Share
2# black turtle beans
1 bag corn chips
1 # chorizo sausage
1 bunch green onions
1 bunch cilantro
1 head red leaf lettuce
1 head either baby bok choy or 1 bunch swiss chard (depends on stop)
1 head jumbo white stem bok choy
1.5# red slicing tomatoes (approximately 3 tomatoes)
1 lb. snow peas
Large CSA Share Small contents above plus:
1 head cauliflower
1 bunch red kale
1 lb. snow peas
2 ct. zucchini
1 package chicken brats
It's hard to get a shot that shows all of the items in a large: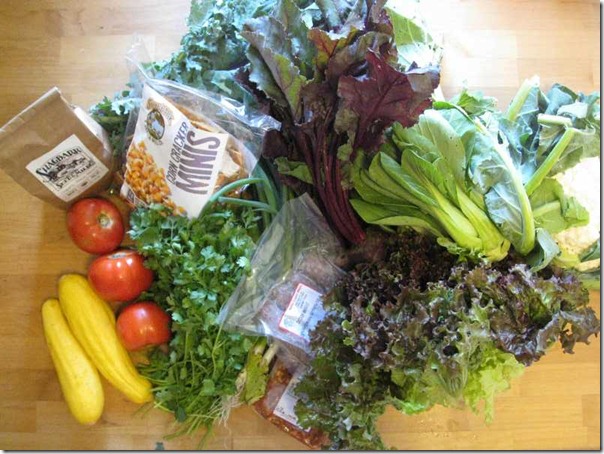 I'm getting ready to leave on vacation, so I'll be prepping the lettuce for my husband to eat in salads.  I'll be cooking the cauliflower for a side dish tomorrow and/or for Stephen to eat while the kids and I are gone.
I'm going to make soup or a stir fry with the bok choy.  I'll use some of the peas and onions in that dish.
I put the meats in the freezer.  I'll probably cook up the chorizo tomorrow.  I will probably make a cold salad with quinoa, chorizo, onions, cilantro, lime, etc.  We'll pack some for the road this weekend and leave the rest for Stephen to enjoy.  The brats will magically disappear while I'm away with the kids or we'll enjoy them in July.  The last time I made the brats, I simmered them in beer on the stove.  They were quite tasty.
I still had a couple of zucchini in the fridge, so I am making my fritters with them tomorrow.
I'm soaking the beans tonight so I can cook them tomorrow.  I'll use some of them and the cilantro in the quinoa salad and freezer the rest.
I haven't decided on the kale yet.  I just got a kale recipes book in the mail today, so maybe I'll be inspired to cook something new with it.  The beets were subbed for some of the peas.  They are getting added to a few I have in the fridge for a pickled beets recipe that looked promising.  I hope to make them tomorrow.
We often buy these corn chips as extras, so they will disappear quickly.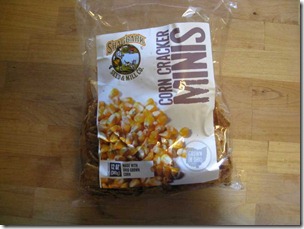 Once again, the truck didn't have any of our favorite yogurt with them, but I was able to pick up some of our favorite granola and milk while we were at our stop.
I'm glad to be going on vacation, but I hate that I'll miss all of the fun CSA contents for the next two weeks.