Normally, I would have picked up our large CSA yesterday in Mayfield.  But, I'm on vacation.  After a few days in Baltimore and Dover, we are all checked in at our beach house.  My friend Kelly was kind enough to send me a photo of the large share.  It looks amazing and I'm sad to miss it.  But, I'm super happy that Fresh Fork has an awesome vacation policy.
Here's the artistic photo from Kelly: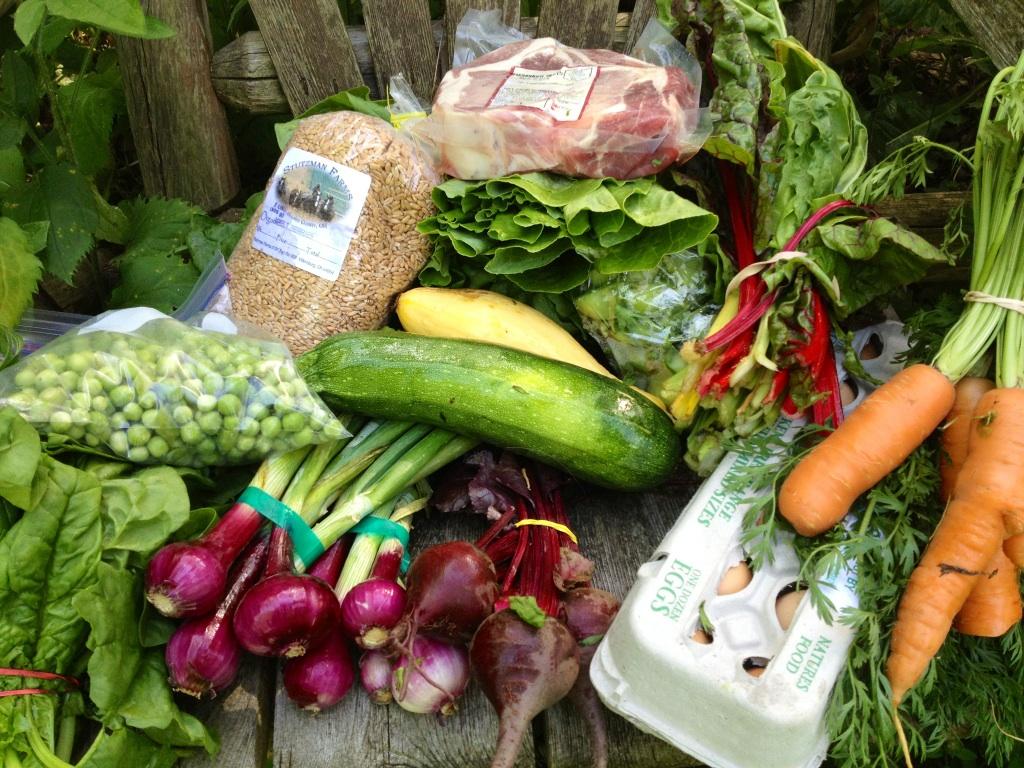 Here's the list of contents that Fresh Fork sent us earlier in the week.  Squash was subbed for the napa cabbage.
Small CSA Share
1 package boneless loin chops, 2 per pack
2 lbs spelt berries
1 bunch spinach
1 head white stem bok choy
1 dozen eggs
1 bunch swiss chard or 1 head baby bok choy (depending on route)
1 bunch beets with tops
1 lb snow peas
1 head chinese napa cabbage
Large CSA Share Small contents above plus:
1 bunch carrots
1 lb shelled peas
1 head leaf lettuce
1 extra bunch spinach
2 bunches red bulb green onions
I'm hoping that I'll be able to get some pork chops when I return.  It's one of the best Fresh Fork items that we'll get all summer.  If I was in town, I'd be trying out the dry container on my new Vitamix.  I like spelt berries, but I'm really anxious to try out making flour.  For now, I'm going to try my best to eat some good local food while I'm on vacation.  I visited a local market yesterday and have 2 Farmers' markets on the schedule for the week.