Today was our week 8 pick up for our Fresh Fork CSA.  We got there about 5PM and didn't have any wait at all.  It's nice when the kids can just run around for a minute or two.
Here's what we were expecting this week:
1 stewing chicken, approximately 2.5 lbs.
1 bag dried egg noodles
1 pint fig vinegar roasted cherry tomatoes
1 lb. egg linguini
1 lb. bacon
1 bag spinach or mixed greens
1 8-oz. piece of cheese
1 dozen eggs
2 lbs. cornmeal
1 quarter peck apples
3 lbs. sweet potatoes (please keep refrigerated)
Here's a group shot: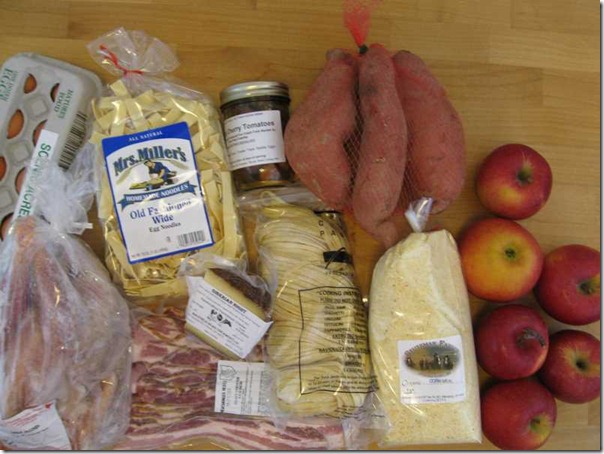 We were notified early today that there wasn't going to be spinach.  The yield wasn't as the farmer had hoped.
I was glad to see apples today.  We love having them in our oatmeal.  I don't think I've ever cooked a stewing chicken.  From reading, it sounds like it will make great stock.  I have some carrots and celery in the fridge to add to it.   I'll probably also add the noodles.
We had our choice of beer or cheddar cheese.  I chose beer cheese since it sounded more fun.
Our kids call the Ohio City linguini "spider web pasta".  It's always welcome in our house in any flavor.  Maybe we'll top it with the roasted cherry tomatoes for dinner one night.
I don't feel like we use a ton of eggs in our house, but we always seem to use them up.  Baked oatmeal, muffins, pancakes, and such all use an egg or two at a time and it adds ups.  I've been leaving the bacon frozen and cutting it across the width for smaller pieces of bacon as flavoring in dishes.  It works well since I don't need to thaw all of it at once and it last longer for us.
I'm hoping to have the sweet potato / chorizo type of hash that Stephen made for us before using the potatoes.  I think we have all of the ingredients in house.  Our kids eat corn muffins like they are going out of style.  I also want to try some pancakes made out of corn meal soon.
We also picked up a bag of corn chips ($3.5) from the back of the truck.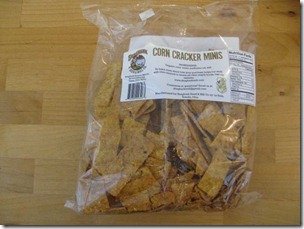 All in all, this is a pretty easy week.  I'm glad to have a chance to use up more from our freezer stash.  We have two small freezers in the basement and one needs to be defrosted soon.  I'm hoping to tackle that in the next 2-3 weeks.