Last week, we took a vacation from our Fresh Fork CSA.  There is a generous vacation plan.  In a nutshell, you can miss up to 4 weeks as long as you give advance notice.  When you return, you can double up a week or place a la carte orders for the dollar value.
Here's what we would have received last week:
Small CSA:
1 lb mild Italian sausage, ground
8 oz grassfed Gouda cheese from Mayfield Road Creamery
1 bunch of leeks
1 pint cherry tomatoes
Approx a quart of hot hungarian peppers (6-8)
2 Patty Pan Squash
1.5 lbs slicing tomatoes
1 pint blueberries
1.5 lb peaches
In my opinion, it wasn't a bad week to miss.  We love the sausage and cheese, but can easily get that on a special order or buy it from the back of the truck.  This time of year, we get tons of tomatoes, and our freezer is well stocked with blueberries.  I picked up some local peaches at Whole Foods over the weekend.  I have a hard time using hot peppers.  I've successfully used leeks before, but I'm fine without them.  I really liked the Patty Pan squash a couple of weeks ago.  It made the best veggie lasagna.
Now for this week:
Small CSA:
1 4-oz. package goat chevre cheese from Lucky Penny Farm
1 watermelon or 1 pint of blackberries
6 ears corn
1 pint heirloom cherry tomatoes (multi-color)
2 ct. zucchini (dark green, light green, or golden…we have a good mix this week)
2 ct. yellow summer squash
Approx. 1.5 lbs red slicing tomatoes
Quarter-lb. basil
2 green bell peppers
1 large black opal eggplant
1 large candy onion
Here's a group shot: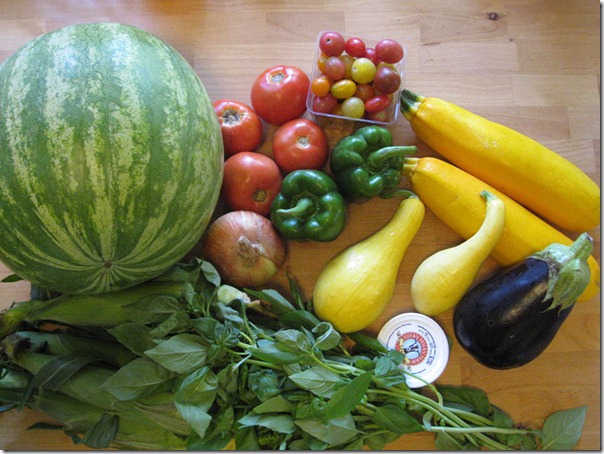 We bought 3 watermelons on sale this past Sunday.  We also got a watermelon on Tuesday in our CSA pick up.  We've eaten almost 2 watermelons so far.  We may end up freezing some for a watermelon frosty or two.
I think I'm going to use the tomatoes (along with the ones from Tuesday) and make some sauce to use in some eggplant/squash lasagna.  I think we have everything we need except cottage cheese.
I love the color on the golden zucchini.  I'm not sure I've ever had this variety.  I'm excited to try it.
I saw a recipe for corn fritters this week.  I think I'm going to combine that idea with my squash fritter recipe for a new fritter this week.
I'm sure the Cheve cheese will be tasty.  We enjoyed the corn for dinner.
Usually, I end up freezing herbs like basil.  But, this week I wished I had some fresh more than once.  I currently have it in water on our kitchen table and I'm hoping it lasts for Peach Vinaigrette salad dressing and Lemon Basil Egg Salad.  I'm hoping to make both this week.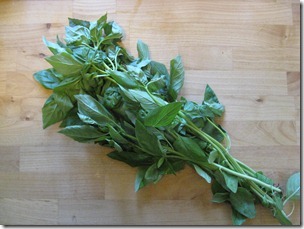 Due to more company next week, we have week 12 as a vacation day.  Then, I need to figure out the best way to spend our credits.  They are worth the full value for 4 weeks.
Meanwhile, our fridge is well stocked and we have plenty of watermelon!