We picked up our Fresh Fork CSA today.
Here's what we were expecting to receive this week:
Small CSA:
6 ears super sweet Miria 301 corn
3 lbs. Yukon gold potatoes
1 lb. grass fed ground beef
2 ct. green bell peppers
1 lb. green beans
Approx. 1.5 lbs. Flaming Fury Lucky 13 and John Boy peaches (freestone peaches)
2 ct. cucumbers
2 ct. yellow summer squash (probably last of the summer already)
8 oz. bag or bunch of kale
1 pint heirloom cherry tomatoes
Here's a group shot: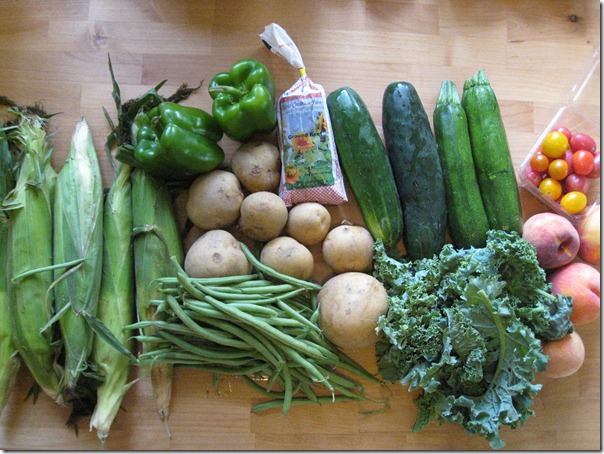 Our beef was partially thawed by the time we got home, so I am going to cook it tomorrow.  We'll probably make potato salad for the holiday weekend with the potatoes.
We have these 6 ears of corn, plus a few left from our Tuesday pick up, so we will be having corn tomorrow.  I have a local steak to cook also.  The peaches are still firm, but will be quite nice in my oats.
The tomatoes will disappear into Stephen's lunch.  I'm in the process of cutting and freezing lots of peppers since we went picking yesterday.  I'll add these to the bag.
Looks like we received zucchini instead of yellow squash.  It's very similar and doesn't make a difference in my uses.  I think we'll make squash fritters.  I haven't had them in a couple of weeks.  We'll use the cucumbers in salads.
I may try the kale in vegetable lasagna this weekend.  I've enjoyed making a lasagna and having it for a few meals during the week to help with planning and cooking.  We'll enjoy the green beans when we grill out on Sunday.
The yogurt ($5) was an add on for us this week.  We like this yogurt and are trying to stay away from the high sugar varieties.  For this yogurt, we've been adding homemade jam sweetened with honey to taste.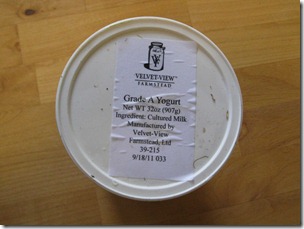 I think we'll do ok this week.  I need to prep some items in our fridge and keep close tabs on our produce use since we have a few meals planned away with the holiday this weekend.