Yesterday, the kids and I visited Horsefest at Lake Farmpark.  We had never been to this event before, but from the looks of the schedule, they were expecting a big turnout.  The weather was perfect.  We were sure to pack our hats, sunscreen, and water.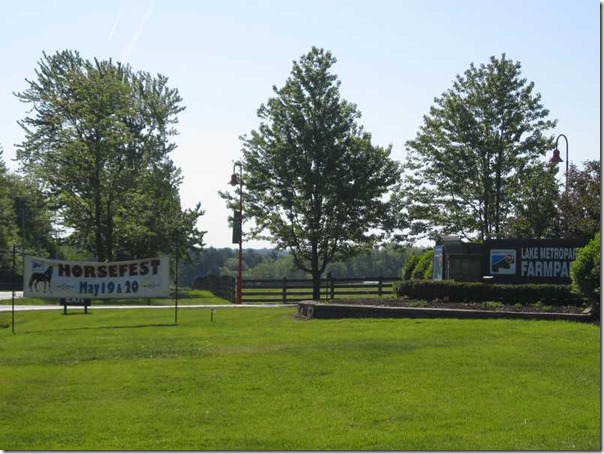 Nick and Sally were excited to see the horses hitched up to the wagon.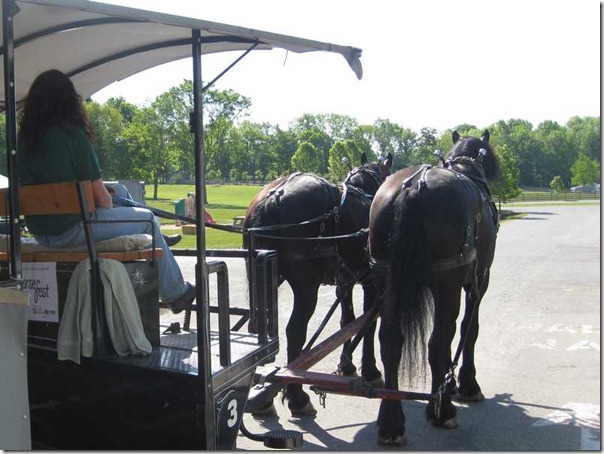 The wagon ride is usually one of the highlights of a visit to Lake Farmpark, but usually it's powered by a tractor instead of horses.  We rode over to the arena area.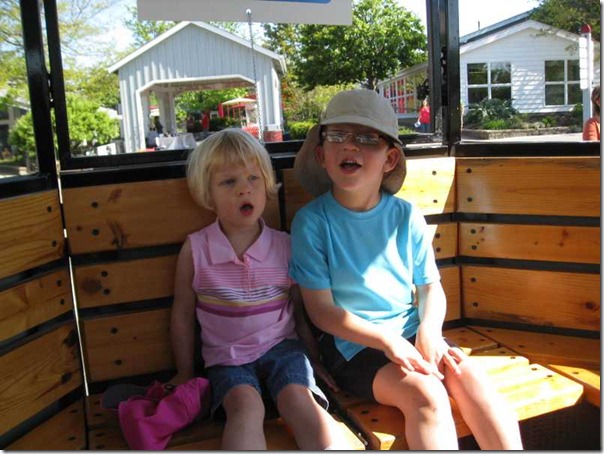 We were greeted by this church group who were stamping names into horseshoes as souvenirs.  The kids liked watching them work.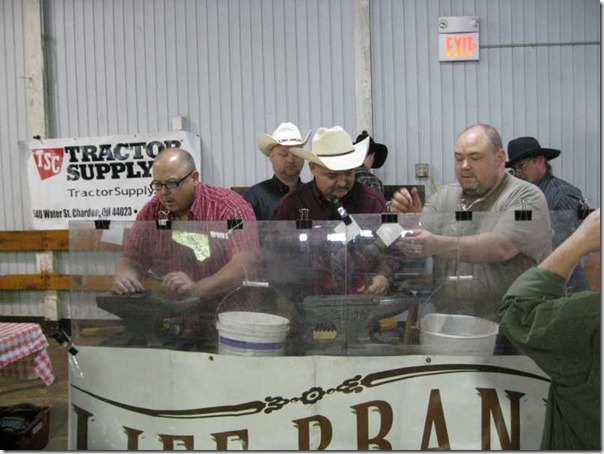 We watched the horses inside the arena for a bit.  There was a color guard (on horses)  and the national anthem for Canada was played.  After that, a girl sung the US anthem.  Nick heard it on a commercial today and remember the Star Spangled Banner from yesterday.  Now he wants to learn it pronto.  I see some patriotic music in my future when we drive to Maryland next month.
After we walked around the arena, we headed back outside where Nick got to try his hand at leading a horse.  This is the type of set up that you'd see for plowing a field.  I can't remember the breed of house, but he was a beauty.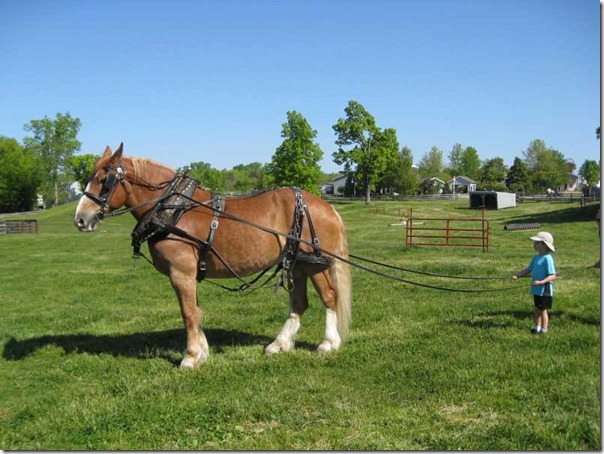 Nick had help, they didn't let him lead the horse on his own.  But, they showed him how to get Fred to move by making a kissing noise.  It was so cute.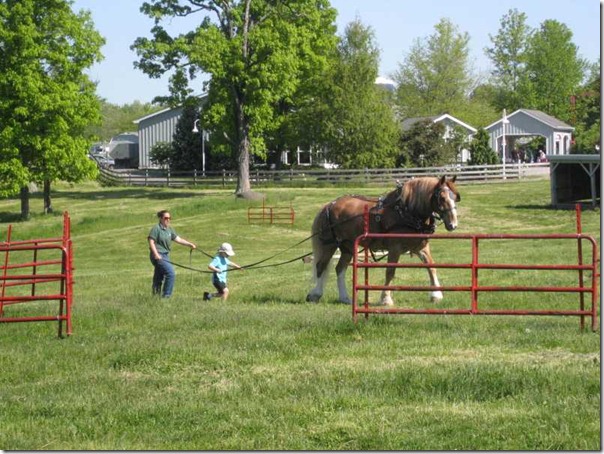 Sally's turn was up next.  I was surprised that she wasn't afraid.  She just went right up to the horse.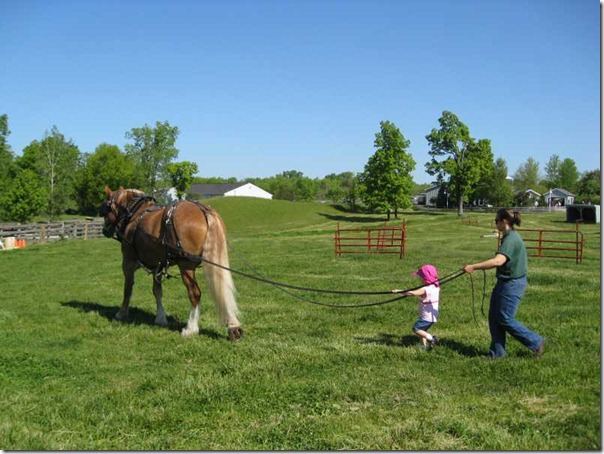 By the time she circled around, her hat had fallen down and she couldn't see a thing.  I was sure to readjust the hat as soon as she was done.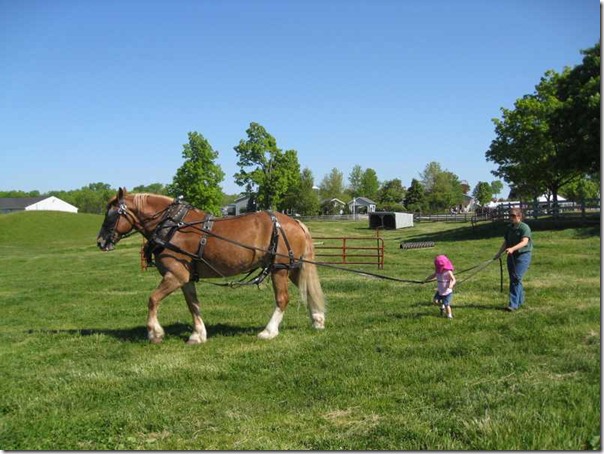 As we wondered around, we saw all kinds of horses and carts.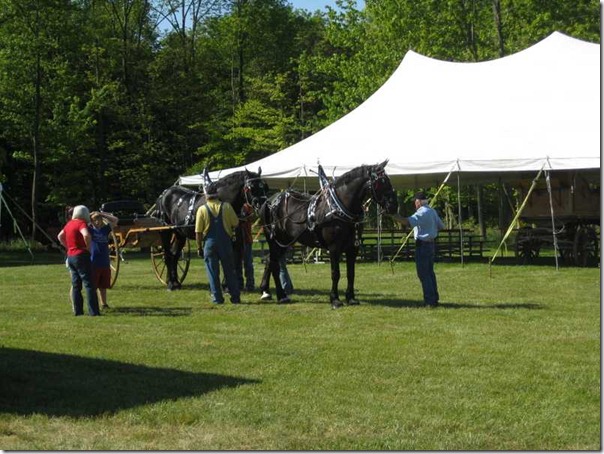 In addition to the arena activities, there were food trailers, vendors, and displays, including a children's activity tent.
On our way out, Nick and Sally were happy to see that the courtyard train was running.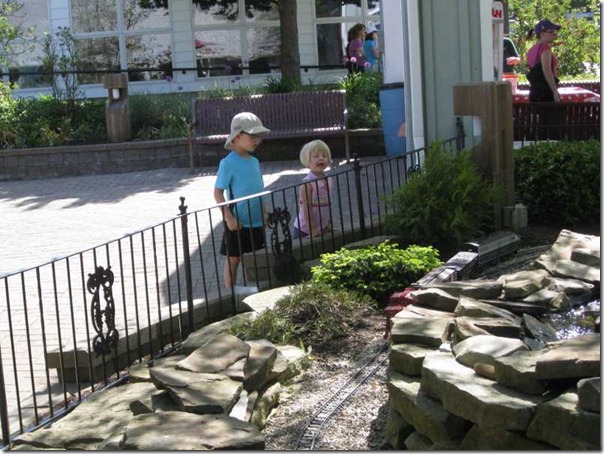 We left before music in the courtyard and some of the other activities started.  As we exited, there were quite a few people in the lobby coming in.  The admissions staff was well prepared and staffed for a busy day.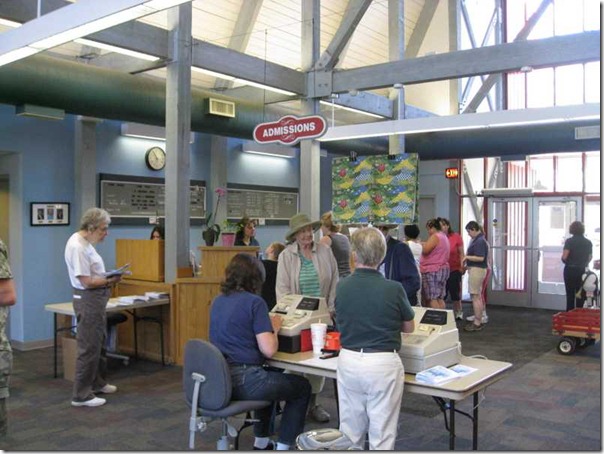 We barely touched the surface of things to see at the Horsefest.  But, the kids and I have a short attention span and our visit was just right.  We had arrived about 9:30am and left around 11am to head to our next stop.