Today, we had a great Fresh Fork CSA pick up.  It was not busy when we arrived and we were in and out in a flash.  Robert even carried our stuff to the car.  Also, it was DRY!  There was an almost full moon and no precipitation.
Here's what we were expecting this week:
1 bunch bok choy (approx. 8 oz.)
1 bunch leaf lettuce
1 bag mixed braising greens, approx. 0.75 lb.
3 count winter squash
2 lbs. onions
1 head broccoli
1 head cauliflower
1/2 lb. spinach or pak choy
1 bag corn chips
1 8-oz. wedge of Havarti or pepper Havarti from Mayfield Road Creamery
3 lbs potatoes, Yukon gold or Red Norland
Approx. 3# beef roast (we'll have an assortment available)
Here's a group shot: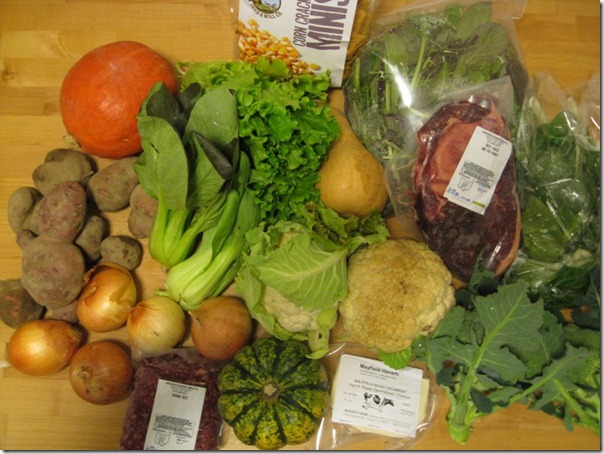 Both the ground beef and the roast were frozen, so I just popped them in the freezer.
I really like caramelized onions and haven't made them in a while. I think I'll be having them soon.  I'm also going to try a Shepard's Pie with the potatoes.
We were supposed to get one head of cauliflower.  I'm guessing we have two due to the size.  They aren't in the best shape, so I will be cooking them tomorrow.  The winter squash look nice.  We have an acorn, butternut and an orange Hubbard squash.
Bok choy has been being made Asian style for Stephen lately.  I'm not sure if we will try something different or not.
The lettuce will go into taco salad.  Fresh Fork posted a recipe on the braising greens.  I think we'll try it out this week.  We get these weird mixed greens a lot during the winter.
These are two tiny heads of broccoli.  I'm sure they are tasty and will disappear quickly.  We had the return of the corn chips. We bought one extra bag ($3.5) not pictured.
This week's share ended with local Harvarti cheese.  All of the cheese from Mayfield Creamery has been great and I'm sure this will be no exception.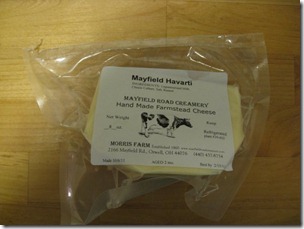 As you may recall, we we short a few items from our Thanksgiving package a couple of weeks ago.  These items were delivered with our regular share today.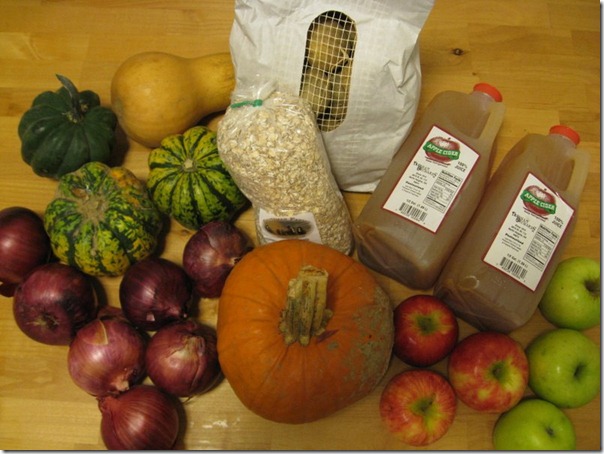 So, we have more of a few items and are glad to have apples back in stock.  I'll probably be cooking/freezing the winter squash and pumpkin in the next day or two to have for recipes in the winter.
The holiday ham and other package order form came out today.  I'm not sure if we are going to order a ham this year.  I'll need to check with my folks to figure out our menu for Christmas.
I'm off to put the rest of our share away and clean the kitchen from dinner.