It's hard to believe that this was the last Geauga Family Farms CSA pick up for the winter.  Once again, Stephen and the kids went to St. Noel to pick up our share.  I had a scheduled hike that began at 10AM in Ashtabula County.
Here's a group shot of what we received: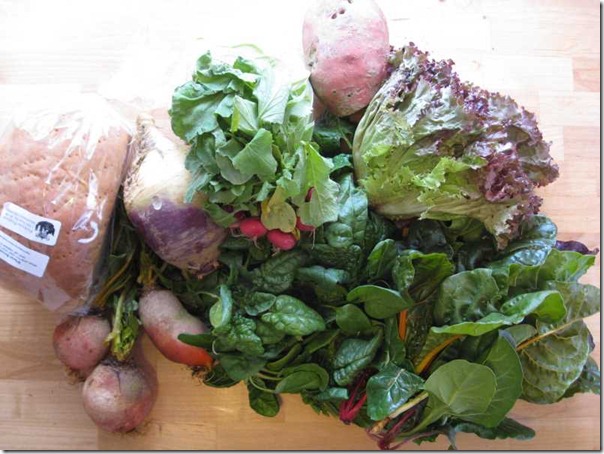 Let's take a closer look:
Wheat bread (not 100%), Swiss chard
Radishes, very large sweet potato
Lettuce, spinach
Cabbage, turnip
Beets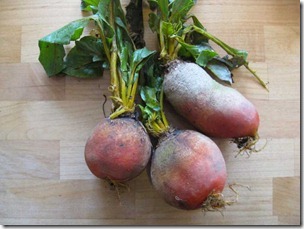 We were getting pretty low on produce.  Before this pick up we had a small head of cabbage and a little bit of lettuce left.  Most of these items are quite welcome in our fridge.
We've had many meals out this week, but I'm happy to say that after tonight, I don't have any meals planned out this entire week.  Eating at home will make it very easy to use our veggies.
I'll probably make unstuffed cabbage again.  It's easy and freezes well.  Stephen sliced the bread so we could freeze it.  I'll make Harvard beets again.  It's an easy recipe and everyone likes them.
I never know what to do with the turnip, but last time I made some turnip and potato soup that turned out well, so I am guessing that will make an encore appearance.
The spinach will get used in a pasta dish or quiche this week.  We've been cooking the chard with some onion, spice and Balsamic vinegar.
I'm looking forward to cooking a few local fresh meals at home.