Saturday was a crazy busy day for me.  I headed to a class at the Cleveland Museum of Natural History, followed by my weekly docent class there.  I had volunteered to work at the coat check later in the day for the West Side Market Centennial 100 Gala.  My shift was set to be 8:30PM – 11:30PM.  So after my classes, I headed to the West Side Market for a few photos.
It was a cold, dreary day.  But, the set up and preparations were fun to see.  There were several tents up.
I took note of the West Side Market Café since that was where volunteers were going to meet.
Several food trucks were on site.
The valet service was well staffed and ready for the VIP attendees to start arriving.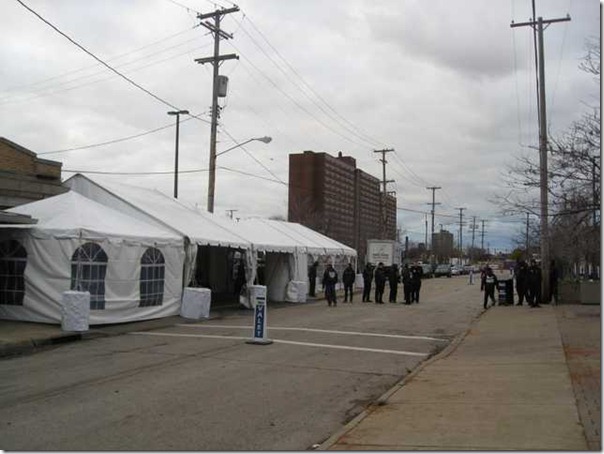 The black box in the middle with the big hose is the heater!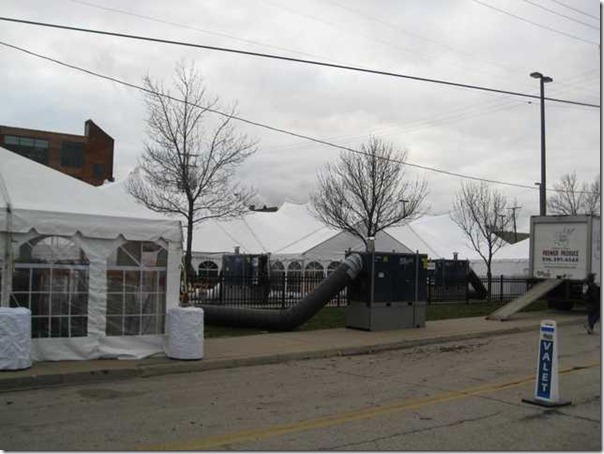 One of the pipes went straight into the coat check tent.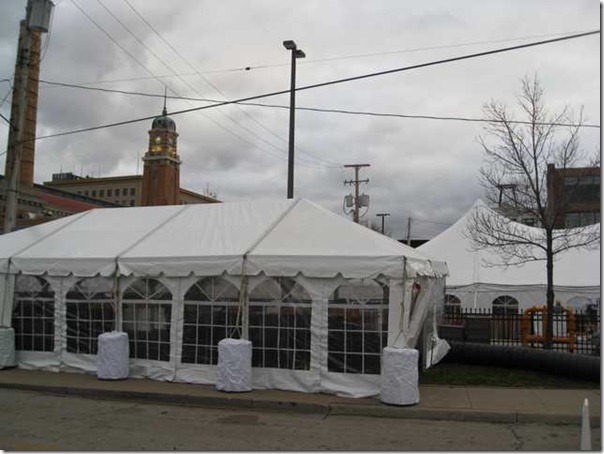 After taking a photos, I stopped at the Market Garden Brewery for a quick dinner.  Soon enough, I headed to the WSM and checked in.  Aseela gave me my badge.  I told her that I knew I was early, but I was just going to hang out and if she needed anything to let me know.
5 minutes later, I was holding a radio – just in case someone showed up to volunteer and we needed her.  She wasn't gone long, but I was glad to be available to help.  After that quick stint, I took a few minutes to walk around the venue.  The VIP attendees had started to arrive.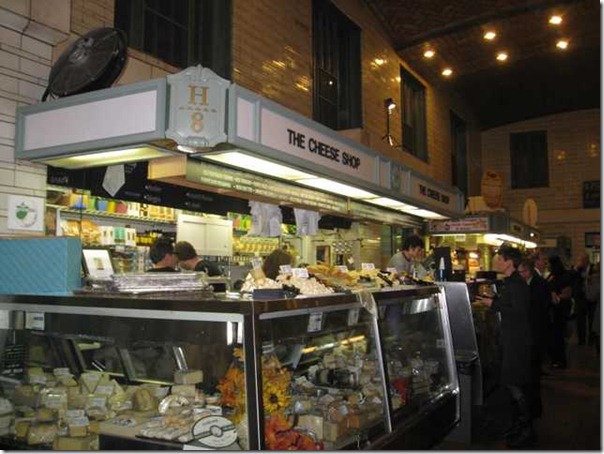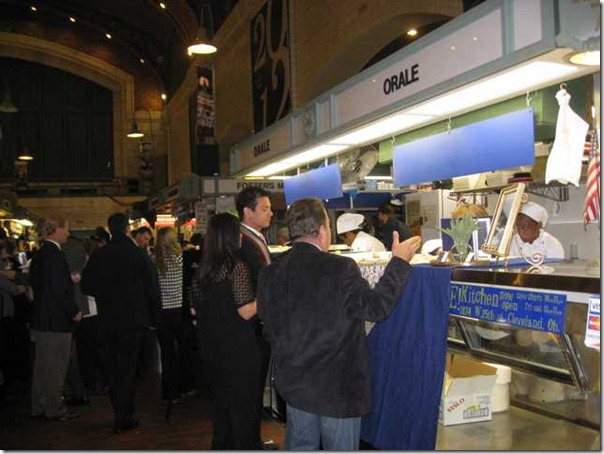 Symon's stand was one of the most popular.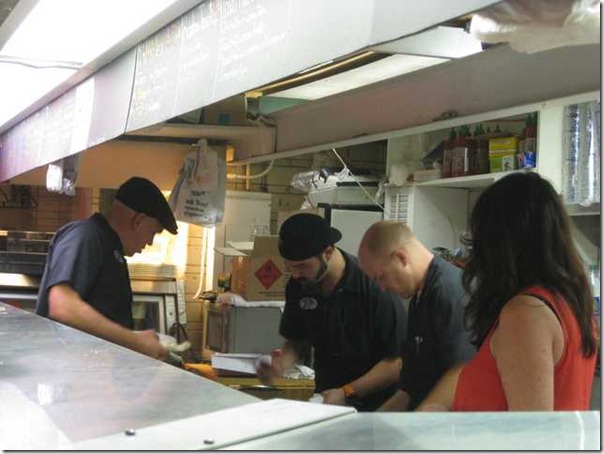 I hung out in the café most of the early evening.  Around 8:15PM, I headed to the coat check.  It was super nice to have the heaters.  Everything in the coat room was smooth.
It was crazy during the night to listen to the radio traffic.  I've always enjoyed the behind the scenes look at events.  From a lobster allergy to get a trash can changed, it was not dull.  When people started to claim their coats, we were totally entertained.  Many guests had too much to drink.  So, hilarity ensued when they would try to find their claim ticket.  Our table was used for cleaning out many purses and pocketbooks.  We had more than one person tell us that their coat was the black one.  (Over 80% of coats are black.)  By the end of our shift, it seemed that everyone had received their coat back, so that was successful.  We were asked not to take tips since we were volunteers.  We had suggested a tip jar marked – all proceeds go to the market, but it was shot down.  That was really dumb.  We spent 3 hours trying to explain to people no tips, we are volunteers, keep your money, etc..
Also, we were in the middle of the "goodie bag" drama.  Each attendee was supposed to get a goodie bag that included the special "Butchers Brew" from the Great Lakes Brewing Company.  But, 900 people and 800 bags was not going to work.  They decided that each couple would get a bag.  The staff quickly figured out that wasn't going to work.  They set too many bags out at once, which gave the appearance of "plenty of bags".  People were taking at least one per person, in some cases 2 or 3.  We weren't in a position to be the bag police, but we watched it from the coat room.  At the end of the night, they were short bags.  I would be ticked if I spent $250 or more on an event and didn't get the beer and I don't even like beer.
I had fun watching the event.  I'm glad that the attendees all seemed to have a good time.  The event raised a lot of money for the market and that was the idea.
I should note that as volunteers, we were not permitted to partake in the food or beverages for the guests.  We were supposed to have dinner and water provided.  It was mediocre at best and I was glad to have eaten before I arrived.