Today, we had another soggy Fresh Fork CSA pick up.  I think Trevor should invest in Gortex running gear for the crew, and maybe some sand bags for the tent.  It was really a smooth pick up.  The kids wanted to wait with me, so they ran around in the rain while I waited in line for our goodies.
Here's what we were expecting this week:
1 tub (4 oz.) goat milk feta
8 oz. jar of brandied cherry preserves
8 oz. mixed baby greens
1 sleeve of leaf lettuce
1 head of cabbage
1 bag of Mrs. Miller's dried egg noodles
1.25 lb.s Andouille
2 lbs. ground beef
8 oz. pak choi
2 lbs. onions
1 lb. Brussels sprouts
3 lbs. sweet potatoes
1 24 oz. loaf of apple pound bread
Here's a group shot: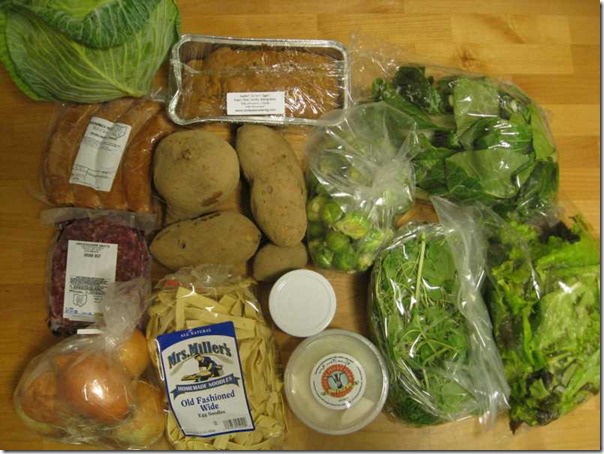 I don't have any immediate plans for the sweet potatoes, but I'm glad that everyone in our house likes them.  I'm thinking of using the ground beef in a crock pot unstuffed cabbage tomorrow.  I only got one pack of beef and I'm checking on that.
I've never used Andouille sausage in anything before.  For now, it's in the freezer and I'll think of something later.  My husband just found a sweet potato and Andouille recipe that sounds promising.  The goat cheese will disappear on crackers and toast.  Cheese never lasts long in our house.
Greens disappear without much effort and these will be no exception.  We need to keep our veggie intake up to balance the cookies this week.
I have all of the ingredients for French onion soup and will make it in the next day or two.
The Brussels sprouts and pak choi will make good sides this weekend.
Apple pound cake is a new one for us.  I'm sure it will be eaten quickly once we taste it.  The noodles will be in the cupboard for a few weeks since they aren't perishable.  We still have turkey in the freezer, so some soup may be in order.
We aren't cooking a ham for Christmas, but I'm sure these preserves will be tasty no matter how we enjoy them.  I'm considering making homemade jelly doughnuts for Christmas.  Maybe they will have cherry filling.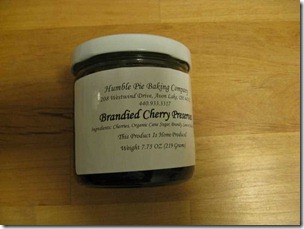 I also splurged on extras this week.  We were out of eggs and still wanting to do some baking this week.  The breakfast patties were so good when we had them before, so I couldn't turn them down.  I wanted to try some local eggnog.  The bacon will be in the freezer for as needed in recipes.  The spinach pasta was dinner tonight.  I can't remember the individual prices, but our total was $28.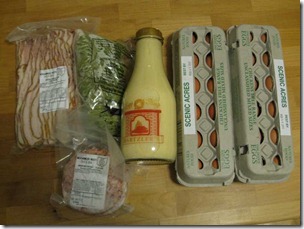 I'm excited for the holidays this week and hope to enjoy cooking a few meals at home.  Eating out really does get old, but sometimes it's definitely the easy way out.