It's April already and we're nearing the end of our winter CSA.  In just a few short weeks, we'll be talking about week 1 for the summer CSA season.  It will be interesting to see how the early warm weather impacts the crops.  Last year, we heard so much about the wet spring and how it negatively impacted the start of the CSA season.  But, let's enjoy the rest of the winter CSA first.  This was definitely the week of meat!
Here's what we were expecting today:
1 meat choice (see above)

option 1: whole chicken, approximately 5 lbs.
option 2: Meatloaf pack, 1 lb. each of ground veal, ground pork, and ground lamb
option 3: 2 packs bone-in beef short ribs and one grass-fed beef round steak
option 4: 1 pack (4 patties, 1 lb.) turkey burgers (new) and 1 pack (1.25 lbs.) chicken bratwurst

1 lb. breakfast patties
1 dozen eggs
1 piece (8 oz.) Havarti cheese
1 pint maple syrup
1 quarter peck apples
1/4 lb. ramps
(earlier in the week, there was a possibility of greens, but I'll take apples over greens most days)
Here's a group shot: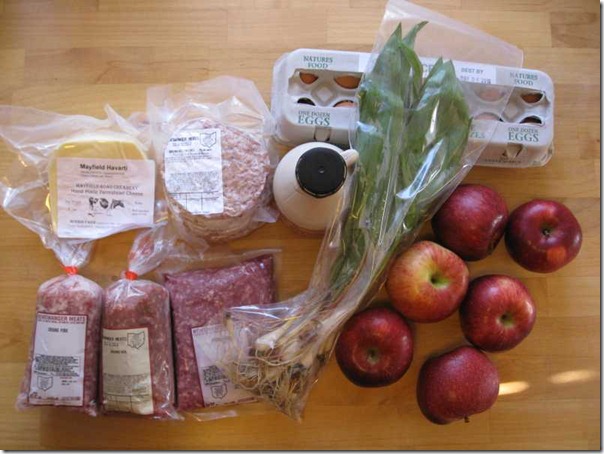 We decided to go with the meatloaf pack. I haven't made meatloaf in a while and there's a recipe for meatloaf that uses the ramps in this week's newsletter. It's more of a guide to meatloaf than a recipe, but I'm not a big recipe follower anyway, so I am happy to use the ideas and make my own meatloaf. I'm going to make muffin shaped loaves. I like using muffing tins for individual meatloaves.
We had the breakfast patties before. They are flavorful, but a little on the salty side. We'll probably pair them with some homemade sauce and pasta for a meal. We don't usually cook meat to go with breakfast.
We bought a gallon of maple syrup this year. Having another pint is always welcome. We made several recipes on a regular basis that use maple syrup instead of sugar. Lucky for me, whole grain pancake mix was on sale this week so I stocked up. My kids love to have pancakes with blueberries and real maple syrup. We don't even use the fake stuff in our house anymore.
We haven't had apples in a while, so they will be a nice addition for our morning oatmeal. We are nearing the end of our canned peaches and frozen blueberries.  Everyone in our house loves cheese. I'm sure the Havarti will be popular. Stephen and I are signed up for the cheese class on Saturday, so I suspect we will be stocking up on local cheeses this weekend.
Eggs are never hard to get used up. We just naturally use them often in baked oatmeal, pancakes, French toast, muffins and other recipes. This week a few will go into meatloaf for sure.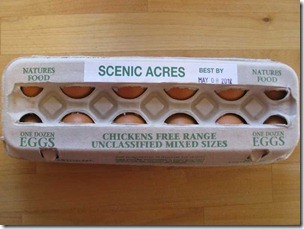 Finally, I picked up 4 yogurts this week.  We seem to use at least 2 a week at our house.  It's $20 well spent.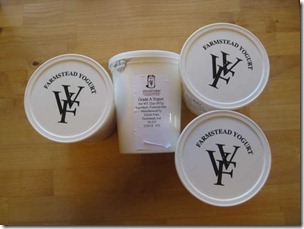 I'm having a Fresh Fork CSA week for sure.  Yesterday was the monthly happy hour.  Today was our pick up.  Saturday is the cheese class.  I love local!