We picked up our bag in Mayfield this week without issue.  I was glad to make it a quick trip and didn't even get the kids out of the car.  I've decided that the large is really hard to take a photo of since it's so large.  This is all of the items except the meat.  I had already popped them into the freezer.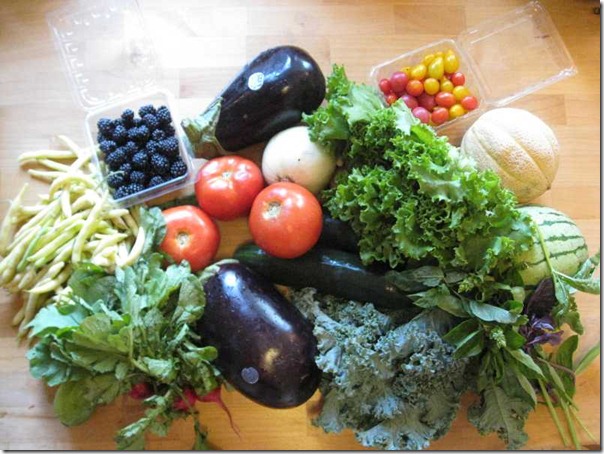 Here's what we were expecting this week:
1 whole cantaloupe
Either 1 pint mixed color cherry tomatoes or approx. 1.5 lbs. heirloom tomatoes
2 ct. zucchini/squash
2 ct. eggplant
1 bulb garlic
1 large candy onion
2 oz. basil
1 bunch curly kale
Approx. 1.5 lbs. slicing tomatoes
1 lb. bulk Italian sausage (ground)
1 pint blackberries or approx. 1.5 lbs. peaches
1 small yellow watermelon
1 lb. yellow wax beans or green filet beans
1 lb. grass-fed ground beef
1 head lettuce
1 bunch radishes
1-2 cucumbers depending on size
These melons are really small.  I think I'll call them personal size.  We'll eat them quickly.
The guys of the house will snack on the cherry tomatoes.  The rest are going into some salsa (hopefully tonight).
We'll eat the lettuce in salad and use the basil for some dressing.   I need to pick up some more balsamic vinegar, but we'll make due until then.
I haven't decided on a dish for the kale yet.  It may just get sautéed.  The cucumbers will be great for salads and snacking.
I have lots of garlic frozen from last year.  I'll have to remember to use it more often.  We had the onion with our dinner tonight.
I'm not a huge fan of ratatouille, so we'll probably make a veggie lasagna this week and use the eggplant.  I'm hoping to try a bread and butter zucchini pickle recipe with the zucchini (and a few others we have).
We'll have the blackberries for breakfast tomorrow.  Our fridge is too full to keep them around.  We'll either roast or pickle the radishes.
The beans will be a side dish for Sunday.  I put the Italian sausage and ground beef in the freezer.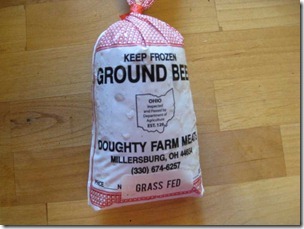 I really need to get some preserving done, my fridge is over flowing.  A little canning and freezing and we'll be all set.  It's easy for us to use our items when we eat at home, but we've had a strange schedule lately and we're a bit behind on consumption.