We stopped by Mayfield to pick up our bag today.  It worked well in our schedule this week.  I love the flexibility of the different pick up locations.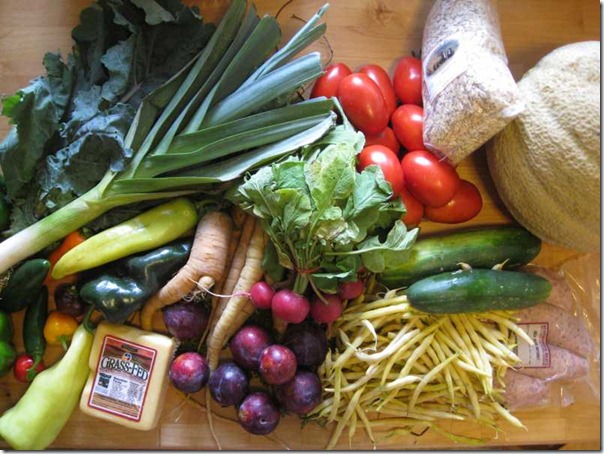 It's still tough to get a large in one photo.  This one is missing the cherry tomatoes, but they wouldn't have fit anyway.
Here's what we were expecting to receive this week:
1 bag of oats, 1.5 lbs.
1 bunch red Russian kale
Either 1 bag (approx. 1 lb.) mixed sweet and hot baby peppers or 2 ct. zucchini/squash
1 lb. beans
1 bunch French Breakfast radishes
1 pint blackberries or 1 cantaloupe
1-2 Candy onions, depending on size
2 green peppers
1 pint cherry tomatoes
1 package (1.25 lbs.) green onion bratwursts, made from Berkshire pork
1 piece grass-fed Swiss cheese from Heritage Grass Farms (12 oz.)
2.5 lbs. San Marzano Roma tomatoes
1 bunch carrots with tops
1-2 cucumbers depending on size
I'm probably going to make some sort of kale sausage ragout from the newsletter with the leek, brats, zucchini, garlic, kale and tomatoes.  Some of these ingredients we just picked up and others I have left in my fridge.  I have some beans ready to go in the freezer and will pull them out tonight.
Carrots and beans will make good side dishes to go with our brats.  I'll probably pickle the radishes.
I'm going to chop and freeze some peppers and dehydrate some of the others.  The plums were a nice surprise, I'm sure they'll disappear quickly.
The cherry tomatoes will be weekend snacking for Stephen and Nick.
I will probably use the cheese with a quiche.  I have some eggs to use soon.  We eat oats everyday for breakfast, so these will disappear quickly.
I'll probably make a few more pickles with the cucumbers since we are short on lettuce.
The photo doesn't do the cantaloupe justice.  It's the size of a watermelon!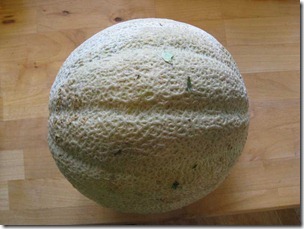 All in all, it's another great week with Fresh Fork.  We love not going to the grocery store much.  Our list for our last trip to Heinen's was yellow bananas, buns for brats and a cookie treat for the kids.  I can't wait to see what's in the bag next week!