Today, we picked up week 15 of our Fresh Fork CSA.
Here's what we were expecting to receive this week:
Small CSA:
1 lb. pumpkin sage linguini
2 lb. log of butter made from grass-grazed, organic milk
2 ct. eggplant
2 red peppers
2 ct. winter squash (varieties include butternut, acorn, spaghetti, honey bear, heart of gold, and a few more)
Approx. 1.5 lbs. heirloom tomatoes
1 lb. yellow wax beans
Quarter peck Gala apples
1 head leaf lettuce
We received notice via our weekly newsletter that the heirloom tomatoes were not in and we could expect slicing tomatoes as a substitute.
Here's a group shot: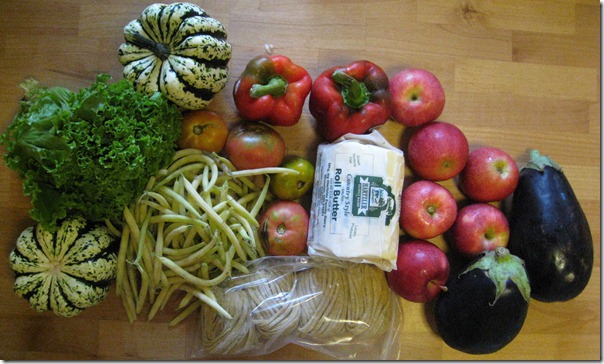 The lettuce will be easily eaten in salads.  We got two heads on Tuesday too.  I'll miss lettuce season when it ends.  I'm not a big fan of yellow wax beans.  I think they might go in our vegetable soup.  I used to make vegetable soup often during the summer, but now that I know what items are and how to cook them, I hardly ever make it.  Since I'm going on vacation soon, I thought a batch of veggie soup would be good to leave in the freezer for my husband and father in law.
I'm super excited that it's winter squash season.  These acorn squash are beautiful!  I never got sick of winter squash.  I haven't decided for sure about the eggplant.  I'm either going to make eggplant pizzas (sliced eggplant baked and then topped with spice, tomato sauce and cheese and baked until the eggplant is cooked and the cheese is melted) or another veggie lasagna.  The lasagna might be nice to have in the freezer for Stephen's lunches while I'm away.
We ate the pasta for dinner.  I made a basic white sauce (butter, whole wheat flour, pepper, milk, cheese), country sausage crumbles and red peppers to go with it.  It was delicious.  We've had this butter before.  It's good and will last us awhile.
I was glad to see apples.  We got cabbage from our other CSA and I like a coleslaw recipe that uses apples.  I already had the dressing ingredients, raisins and almonds that I needed for the recipe.  The rest of the apples will be eaten as snacks or my oatmeal.   The red peppers were used in tonight's pasta dish.
The tomatoes look terrible.  Two of them are moldy and I'll ask for replacements next week.  I'm not sure if these are heirloom, slicing or what.  Either way, two of them are bad tomatoes.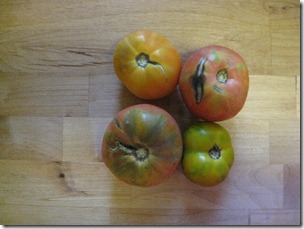 The object of the game this week is to stay ahead.  I'm leaving for vacation on the 19th and need to focus more on packing and prepping the household and less on veggies and the CSAs.  But, I still want to do my best not to waste anything.