On Tuesday, my first full day in Hawaii, I went to see Pearl Harbor. It was a solemn trip and totally worth it.  The new visitor center and displays are well done.
This was my view as I debarked from the city bus.  It was the easiest way to get here from my hotel.
Once I arrived at the visitor's area, I received a ticket for the 8AM theatre presentation.
While I waited for my presentation time, I walked around the monuments.
I also looked at the Bowfin submarine from the outside.  The whole area was rather park like.
This is a photo of the text from a letter sent from President Roosevelt to Emperor Hirohito of Japan on December 6th, 1941.  You can read the text here. It really struck a chord with me.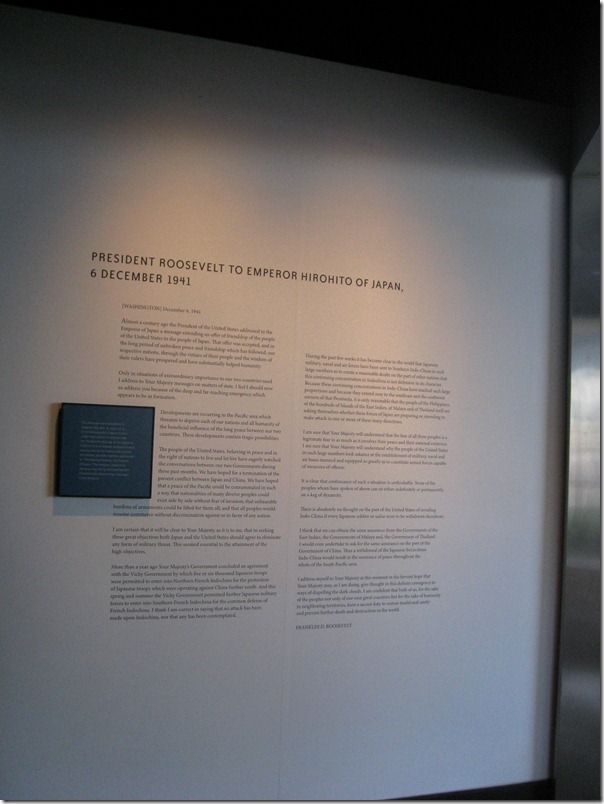 The USS Arizona sunk in 9 minutes.  It burned for over 2 days.  After a short film, I took a Navy boat over to the memorial.
You can see some of the ship still above the water.  Some of the ship is visible just under the water.
The memorial is an open building that sit above the sunken ship.
A US flag flies over the memorial.  Here's a view from the boat as we head back to the visitor's center area.
I can't imagine going to Oahu without going to Pearl Harbor.  It's such a huge part of our history.  I'm glad that this visit was early in my trip so I could spend time enjoying some of the more positive aspects of the island.