Today, we picked up our Geauga Family Farms CSA.  I was glad that we remembered it was Tuesday.  It feels like a Monday since yesterday was the Labor Day Holiday.  It's week 13 already.  I think we have 20 weeks total.
Here's what we received: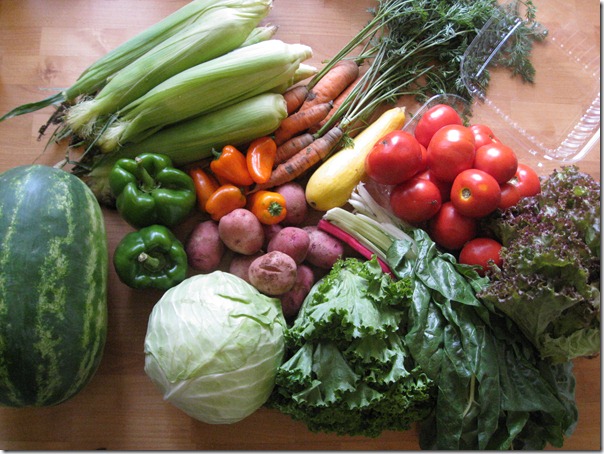 Let's take a closer look.
Cabbage, sweet corn
Potatoes, yummy SWEET oranges peppers
Swiss chard, watermelon!
2 varieties of leaf lettuce
Tomatoes, yellow squash
Carrots, green peppers
This week looks superb!  Everything was vibrant, fresh, and we had a rainbow of colors in our box.
I'm hoping that we get apples from our other CSA this week and I can make my coleslaw recipe with the cabbage.  I have all of the other ingredients on hand.  I'll be cooking the sweet corn tomorrow or Thursday.
After juicing 100 pounds of Roma tomatoes for sauce over the weekend, this amount of tomatoes doesn't seem like very many to me.  I'll probably just use a couple in salad and juice the rest for some ketchup or BBQ sauce.
I don't really have specific plans for the other items, but we'll be eating well this week!
PS – Yes, we got another watermelon.  Yes, I am HAPPY about it!