HI!  I'm back from Hawaii and I am leaving for Maryland in the morning.  It's such a busy time of year.
Here's a group shot of this week's pick up – minus the apples.  I forgot them in the group photo.
Apples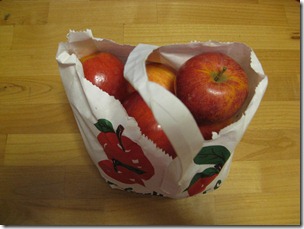 Turnip greens, rhubarb (don't eat leaves if you have any)
Bell peppers, tomatoes
Swiss chard, lettuce (2 different kinds)
Onions, yummy orange peppers
Green beans, garlic
Radishes with tops, potatoes
The garlic, onions and potatoes will store while I am gone.  My husband will hopefully use the greens, beans, radishes while the kids and I are gone.  I'm taking the apples and peppers with me.  I'm freezing the rhubarb and tomatoes.  We'll be back to normal next week.