A week or so ago, we noticed a sign about the Willoughby Hills "Touch a Truck".  The sign stated "this Saturday" and since we saw the sign on Sat or Sun, we weren't sure if it was over or coming up.  A few days ago, I figured out that it was in fact August 27th, so we made plans.  Stephen, Sally, Nick and I rode our bikes from our house in Mayfield Heights up to Willoughby Hills.  We ended up riding through part of the North Chagrin Reservation.  The rode was a little bumpy for our tastes, but the shade was nice.  Upon arrival at the event just after 10AM, we found bike parking.
On our way over the trucks, Nick said, "I Love It Mommy".  It made me melt.  We were not sure what to expect and had only told him that we were going to ride our bikes to see a fire truck.  There was so many different trucks and vehicles that we didn't even have time to see them all.
Here's a view from the community center across the street.  At one point, we took a restroom break there.  One of the highlights of the day was watching a life flight helicopter land.  It was really close!
Let's hope Nick and Sally don't make a habit of sitting in the back of police cars.
I was particularly impressed with the Bomb Unit.  They even had the robot out on display.
Here's the back of the bomb unit.  Check out that container for transporting the bombs.  It's kind of scary to think about it.  Nick found a fire safety dog and wanted a photo.  He's standing in front of the airport fire truck.
Nick and Sally both had a great time looking at all of the trucks.  We were so impressed with all of the vehicles.  Although we didn't partake, there was also some food and drink for sale.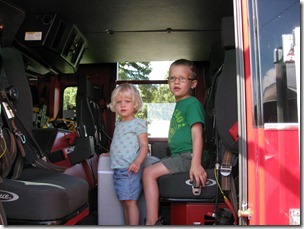 We ended up staying much later than we thought and ended up stopping at Heinen's for lunch.  Sally fell asleep in the trailer and Nick was very tired.  I had a rough ride back home since he didn't peddle much.  All in all we had a great day and feel like we are prepared for the 10 mile family ride at STOMP next week since we did 12 miles today.