We picked up our bag at Mayfield this week.  It was the heaviest bag ever.  I had to split it into two bags to carry it to the car.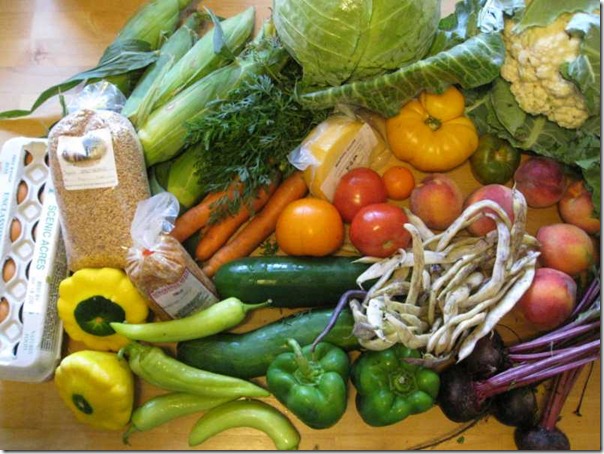 Here's what we were expecting to receive this week:
1 dz. eggs
1 piece gouda cheese
A handful of hot Hungarian peppers
Approx. 2 to 3 green peppers, depending on size
1 head cabbage (most will be green)
Either 1 pint mixed color cherry tomatoes or about 1.5 lbs. heirloom tomatoes
1 lb. green filet beans
2 ct. cucumbers
1 pint blackberries or approx. 1.5 lbs. peaches
1.5 lbs. spelt berries
1 bunch beets
1 lb. chorizo
1 head broccoli
2 ct. patty pan squash
6 ears sweet corn
I'm going to be preserving peppers and squash tonight.  We have enough of both to can or freeze.  I'm also going to make a small batch of pickles with my cucumbers since I have a few.
We ate the sweet corn for dinner.  This is one of the weeks when dinner was determined bulkiness.
We'll be having beans with lunch tomorrow.  I'm not sure about the tomatoes, but they might just get pureed and frozen for later.
The cheese will keep a few days.  The peaches won't be ready to eat for a couple of days, but will go great in our oatmeal.
The carrots will make a side dish for dinner tomorrow.  These peppers are hot and that is my least favorite Fresh Fork item.  I'll probably just freeze them for chili this winter.
We have an abundance of eggs and I'm going to make some custard tomorrow.  I'm also going to hard boil some to have for snacks.  The chorizo was partially thawed, so it will become part of lunch tomorrow.
The spelt berries are in the pantry.  The beets will get used tomorrow.  I'll probably make Harvard beets again.  It's a household favorite.
The cauliflower was dinner.  I made it "mac and cheese" style.  I used the cauliflower (received instead of broccoli) as the pasta and made a white cheese sauce that used Mayfield Road creamery Smoked Gouda.  It was delicious.  I don't have plans for the cabbage yet.
I'm leaving town on Sunday and will be back late on Wednesday.  I should have taken a vacation week with Fresh Fork, but I wasn't really thinking.  I'm going to prepare and preserve as much as possible before I leave.  My goal is for Stephen to have food for while the kids and I are gone, but not be overwhelmed when he tries to find something in the fridge.  I did sign up for vacation next week.  That will give me a few days of recovery when I get back.  Our freezer is pretty full right now.  I just need a couple of days to make some jam and get a bit organized.  I'm hoping to make time for that next weekend.