Today, we once again headed to Beachwood High School to pick up our Fresh Fork CSA share.
Here's what we were expecting to receive this week:
Small CSA:
1 pint mixed color cherry tomatoes
1 package chicken sausage (4 links, 1.25 lbs.)
1 dz. pastured chicken eggs
1 bunch carrots with tops
1 bunch turnip greens
2 ct. green bell peppers
2 ct. poblano chili peppers
1.5 lbs. Stanley plums
Either 1 hd. broccoli or 1 stalk of celery
Here's a group shot of share: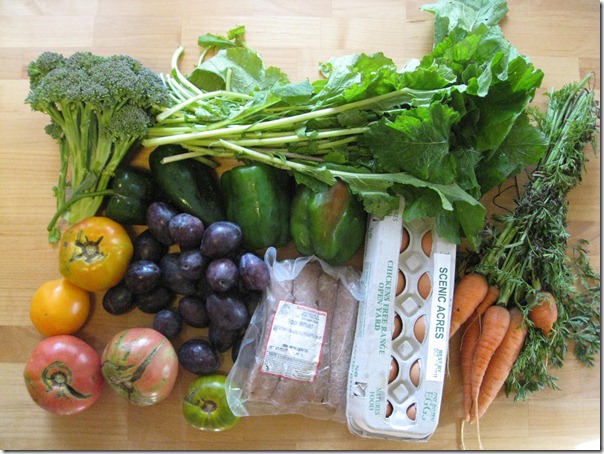 We were down to 1 egg in our fridge, so we were glad to see these.  We went plum picking this week and the plum-apple sauce turned out great, so I am making another batch.
We were gifted a bunch of peppers this week, so I am chopping and freezing away.
The chicken sausage went straight to the freezer.  Trevor included several ideas for the turnip greens in the newsletter.  Basically, I'll make them like my Swiss chard and they should be tasty.  I'll probably have them for lunch tomorrow since they are taking up room in the fridge.
The broccoli looks delicious.  Nick and Sally and I will enjoy it with dinner tomorrow.  We got Heirloom tomatoes instead of cherry tomatoes.  I got a couple of extra since mine were bad last week.  I'm going to clean/chop and freeze them with some other tomatoes for a later sauce.
My kids couldn't get enough carrots last week, so they eat these at lunch for a couple of days.  I'm not sure they will even last through 2 meals.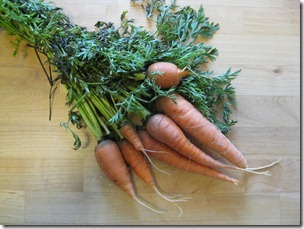 Since I am on vacation next week and the week after, I spent a few of my credit dollars today.  I put them on my account and it will be a wash over time.  I picked up yogurt ($5), corn chips (2 @ $3.50) and a Camembert cheese ($8).  So, I "spent" $20.
I bought yogurt at the grocery store earlier this week since we were out.  I screwed up and bought vanilla.  Yuck, it's full of sugar and I can't use it for cooking.  I really like my newly found whole wheat dough recipe and it calls for yogurt.  I like to keep the ingredients on hand.  I was super excited to see the corn chips back.  The truck hasn't had them for sale lately.  They are the best corn chips I've ever had.  One bag was opened in the car.  I bought 2 bags so there would still be some with Stephen gets back from his trip.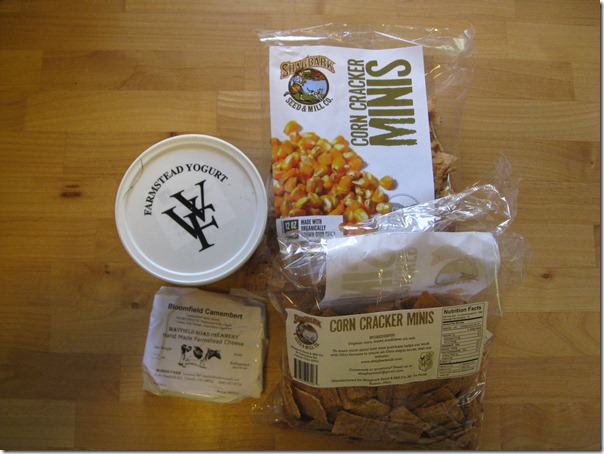 Today and tomorrow I am preserving food and packing for my trip.  I'm trying to avoid too much last minute craziness on Sunday.