Part of the celebrations for the West Side Market turning 100 this year included today's festival and parade.  I had signed up to volunteer by selling soda and water.  I also was going to spend a bit of time before hand helping out Edible Cleveland.  I took the Rapid down to Ohio City.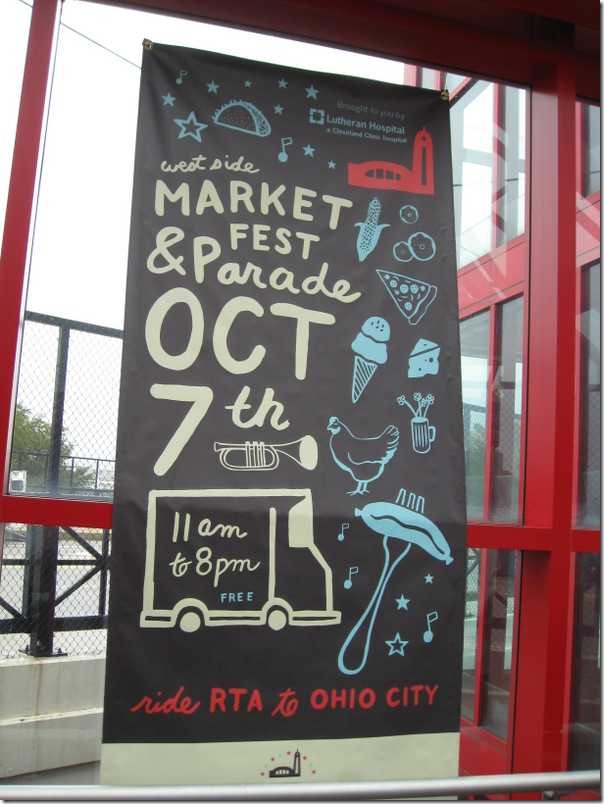 There was a nice tone set in the station with this trio playing.  I tried to check in at the volunteer tent, but it was too early for me since my shift was 2PM and it was about noon.  I found a spot to watch the parade under cover.  Since I was not on the main street, it was not crowded at all.  I'm sure the rain also kept the crowds down.
The parade was fun to watch, but it was a bit strange too.  It definitely wasn't your normal parade.  There was lots of people in market costumes.  The St. Ignatius band also participated.
I was surprised that the woodwinds marched.  Usually, you don't want to get them wet and it was raining pretty hard.
Many of the stalls from the market were represented.
These blue costumes were made from recycled plastic bags.
Stilts are always fun to watch.
My favorite was the birds which also ended the parade.   The timing of the parade was a bit off.  I thought it had ended three different times before we actually saw the end go by.
I checked in with Edible Cleveland who didn't need my assistance since it was pretty slow with the rain.  I also picked up a delicious crepe.  It was raining to hard to take photos.  I also talked to a few people selling drinks (since I was up next to do that at 2PM).  There were 7 stations set up.  They were so close together that you could see the next one down the road.  None of them were selling anything.  It just wasn't the weather for it.  They also didn't really have any cover.
At almost 1:45PM, I checked in with the volunteer tent and asked them if they were going to keep all of the stations.  They didn't really know yet.  I told them that it wasn't a good use of my time and I'd gladly stay if they had something to keep me busy.  I ended up bailing.
I wasn't cold the entire time I was at the festival, but I got chilled on the way home on the rapid.  I enjoyed a nice shower and a hot beverage when I got home.
The festival was nicely done with vendors, food trucks, the market open on Sunday, etc.  The rain just made it a light turnout and kind of miserable.
Although I don't visit the market often, I'm glad that we have it in Cleveland.  100 Years is awesome!