Wow, what a great event!  Today, Fresh Fork Market hosted a customer appreciation pig roast & pot luck.  It was quite the event.  It was held at Hill N Dale Club in Medina.  We arrived right at 2PM and there weren't too many people there yet.  The kids headed straight for face painting.  Kirsten did a great job and the kids loved it.
We didn't have a mirror, so we took photos of the kids and show them to them.  Worked like a charm.  Next up was pumpkin carving.  Our kids aren't quite old enough to work the tools, so I talked them into coloring them with a marker instead.
There were 3 sets of corn hole set up.  Quite a few people enjoyed them.  We also had brought chairs for Nick and Sally.  For a while they carried them everywhere they went.
There was a registration table.  We could get our deposit back or donate it to the Innovative Farmers of Ohio.  Mary Holmes their president and Parker Bosley staffed the table.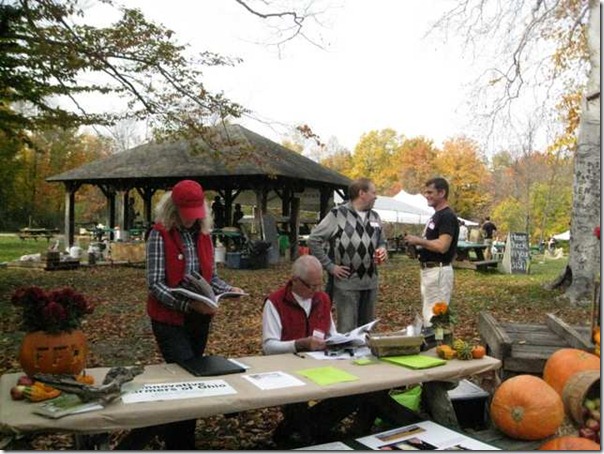 Most of the attendees brought a dish to share.  The dishes were labeled and set out in the pavilion.  It was quite the spread.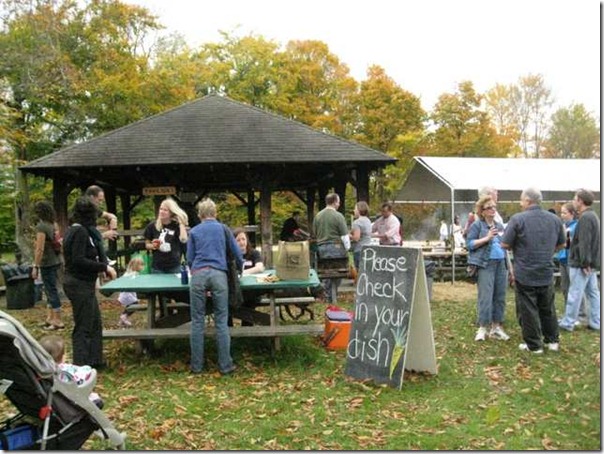 The pig was the main attraction.  Here, Trevor and Clark are checking the temperature.  It was a really big pig.
Kelly was our emcee for the day.  She did a fabulous job organizing the signage and activities.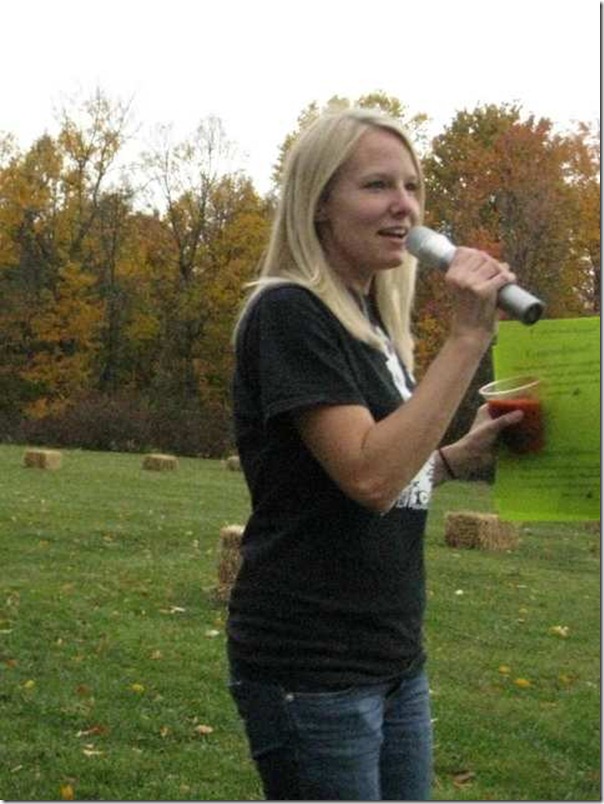 Our family participated in and egg toss.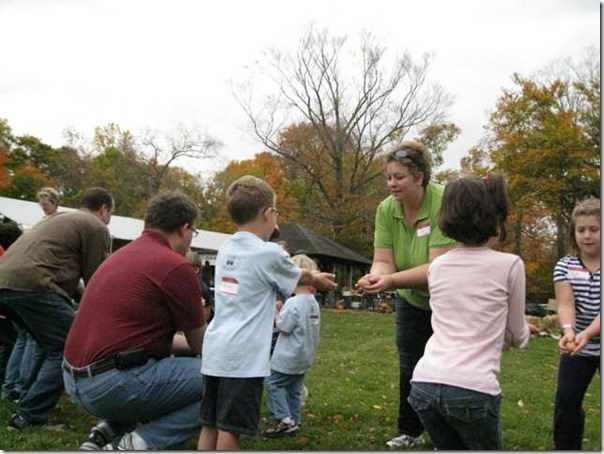 They were strong eggs.  I love this one with the egg mid-air.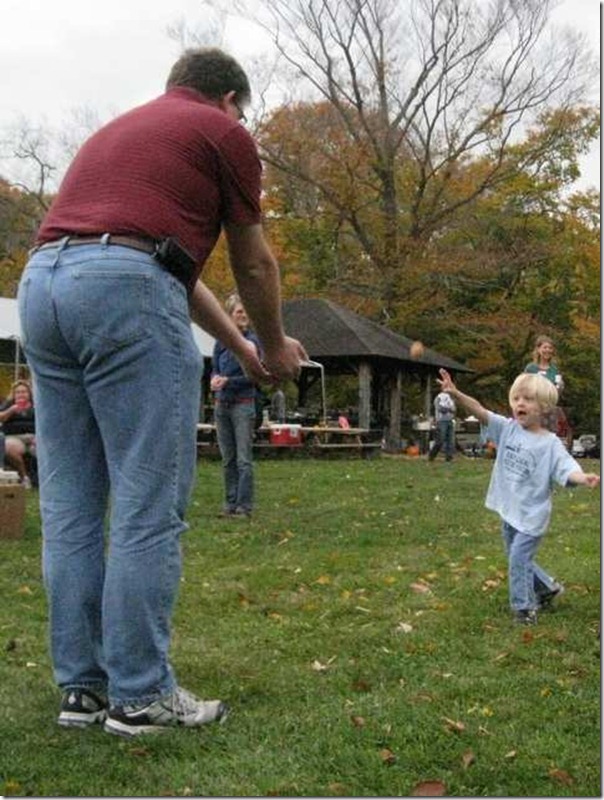 Oh, and it rained!  But, Trevor put up and tent and the pig was fine.  We had tents to eat under and we didn't let it ruin our festivities.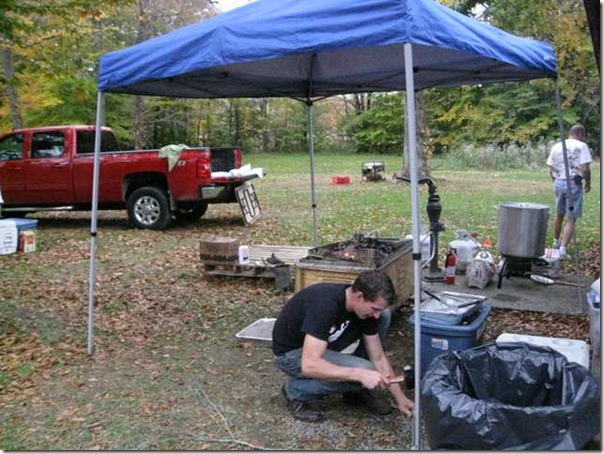 Nick and Sally didn't even know what a 3 legged race was until today.  Sally fell a couple of times.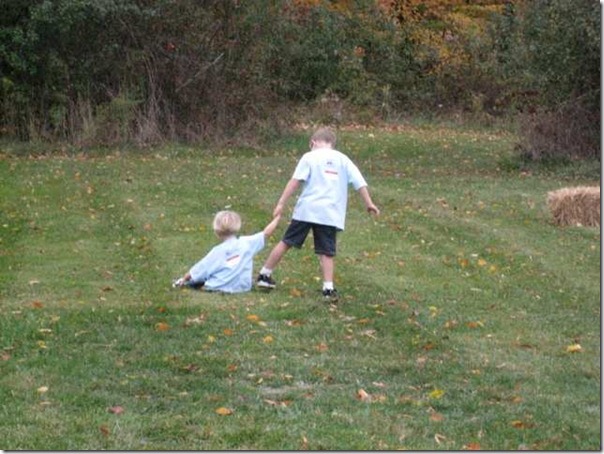 Nick didn't want to stop, so Stephen swapped Sally and became his partner.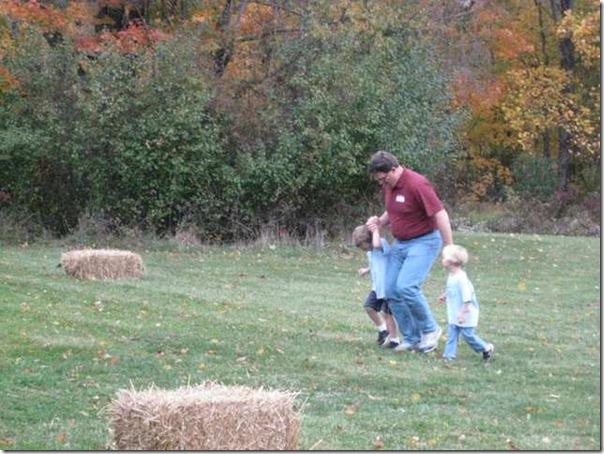 The kids went back for round two of face painting.
The played with (fought over) the umbrella.
We played awesome Fresh Fork bingo for bacon!  And then there was the pie eating contest.  No thanks, those folks were crazy.
We had a super excited winner too!  Before we headed home, Sally tried catching a few rain drops.
I never tried to count the number of people who came out, but I'm sure it was at least 200.  I can't wait for next year!  Although, Nick has announced plans for us to have one in our living room tomorrow.  He wants to run the games and thinks Trevor should cook a pig everyday.