Today was the third pick up for Geauga Family Farms CSA.  Since it was also the first farm field night, my husband picked up our share for us and I took the kids to the farm.  I'll have more on the farm visit tomorrow!
We had received our newsletter and knew we would be getting items like lettuce, strawberries, tomatoes, cherry tomatoes, green onions, zucchini, yellow squash, kohlrabi, carrots, radishes, peas, kale and pickling cucumbers.  Our actual items received vary depending on mother nature, which size share and which pick up day – so we always have an element of surprise.
Here's what we received: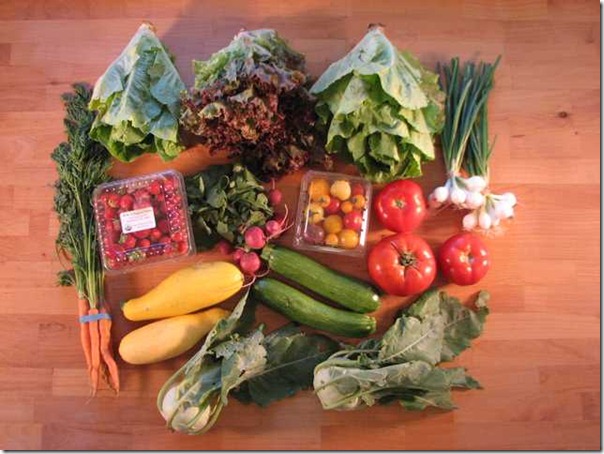 Let's take a closer look.
3 tomatoes, 1 container of strawberries
2 small bunches of green onions (pictured together), container of cherry tomatoes
2 heads of romaine lettuce, 1 head of red leaf lettuce
2 yellow squash, 2 zucchini
2 kohlrabi, small bunch of carrots
bunch of radishes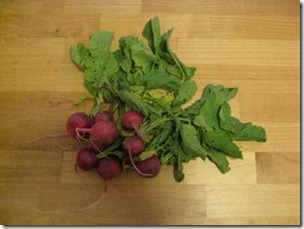 Here's our plan of attack:
We'll have more salads with the lettuce.  I'll probably make squash fritters again with the onions and squash, since everyone liked them this week.  I just pickled some radishes, so I think these will go in salads and in our kohlrabi au gratin dish.  The carrots and cherry tomatoes will get eaten (with our without salads).  The strawberries will either get eaten at breakfast in the morning, or may make their way into a strawberry rhubarb dish.  I'm almost hesitant to say this is a pretty easy week.
Update on last week:
I ended up making kale pesto with the kale.  Most of the other items were used as planned.  I did freeze a few tomatoes, some garlic scapes and some onions for future use.