Yesterday, I took the kids and met friends at the Geauga County Fair.  The fair is in Burton Ohio.  It took us about 40 minutes to get there.  The fair runs from September 1st through the 5th this year.  It's always held over Labor Day weekend.  I had to pay $7 admission and the kids were free.  They also had free parking and a shuttle running to the gate.
Here's the sign at the main admission gate along with a view of the grandstand area.  There were lots of school buses since many of the 6th graders in the area attend the fair one day.
Our main (only) reason for going to the fair was because Nick wanted to fish and we knew that they had fishing for the kids at the fair.  We arrived to the parking lot around 9:30AM.  The gates opened at 9AM and the exhibits opened at 10AM.  Imagine our surprise when we arrived at the fishing pond and saw this sign.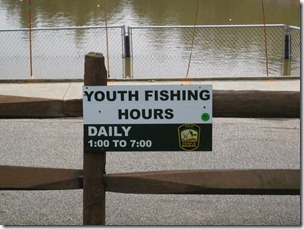 ARGH!  Are you kidding me?  I had emailed the fair to ask about fishing because I wasn't sure if we had to bring bait, rods etc.  I received a prompt response to my email.
"Thank you for your interest in the fair, yes there is youth fishing at the Natural Resource area of the fair. The program has all poles and equipment needed for the kids to fish and they are almost assured they will catch one. They will also clean and hold it for you to take home later.
Thanks again we look forward to seeing you at the fair."
I never thought to ask him about hours.  I assuming (wrongly) that the fishing would open when the fair opened.  Now, we had 2 adults and 5 kids and 3 hours until fishing.  Now to mention that we had 2.5 hours until my kids napped and our friends had other obligations at 1PM.
So, we walked around the fair for a bit and then left to drive to Middlefield.  I had ordered Roma tomatoes and thought I would pick them up on my way home, but decided to go there to kill time.  I picked up the tomatoes and headed back to the fair.  Our friends picked up tomatoes and headed home.  They ended up returning in the evening.
I got the kids a hot dog for lunch and we headed back to the pond.  We arrived there just after 1PM to find this.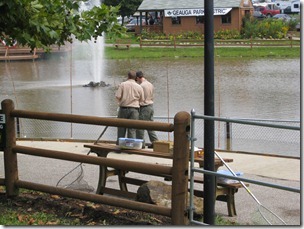 The Department of Natural Resource guys were baited the rods and getting ready.  We had a short wait and then the kids were fishing.
The staff was great and worked with Nick for a couple of minutes.  At some point Nick and Sally got their lines tangled, so we spent quite a bit of time getting them untangled.  After 15 minutes, a horn goes off and you are done.  If you didn't catch anything, you can go back and get in line.  We got back in line a second time and Nick was bored about 1/2 way through that turn.  Neither he nor Sally caught anything.  But, if you ask Nick if he caught any fish, he says, "I didn't catch any fish, only worms.".  He didn't realize that the worms were the bait and thought that he had caught the worm.
By now its 1:30PM and way past nap time.  We still couldn't resist this corn box for some play time on our way to the car.
After playing for a few minutes, we headed to the car.  Nick cried all the way to the car because I wouldn't let him ride.  I thought he meant the shuttle, but he meant the midway rides.  I'm not a fan of mobile rides and would take him to a stationary amusement park for rides.
Sally was asleep before we got out of the parking lot and Nick cried most of the way home.
It was an exhausting day, but I can cross take Nick fishing off our list!