Today was our first pickup for our Geauga Family Farms CSA for the summer 2012 season.  We are getting the single share this year and our pick up is on Tuesday afternoon at the Whole Foods in Woodmere on Chagrin.
We arrived around 4PM and everything was very organized and well labeled.  Nick checked in with April at the table.  I really like the addition of the signage this year.
Here's what we were treated with this week: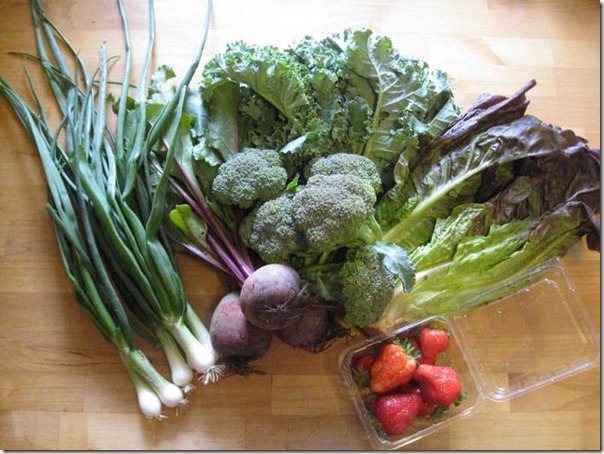 Green onions, broccoli
Beets, curly kale
Lettuce, strawberries
We'll use some onions in our quiche muffins this week.  The rest I will chop and freeze for later.  Most of the time we use onions in cooking, so having them in the freezer works great for us.  The broccoli will make a quick side dish one evening this week.  Lately, the kids have been fighting over broccoli.  Unless we decide to grill, I'll probably make Harvard beets with the beets.  The greens are also edible, so I'll be sautéing them with some garlic scapes.  The kale will either be made into kale chips (haven't mastered them yet) or used in our quiche filling.  The lettuce will go into salads.  We actually didn't open the strawberries on the way home.  Since we still have some, we're going to make strawberry lemonade spritzers with them.  I picked up sparkling water.
It looks like we are off to a great start for the season!