It's just over a week since we planted our garden. We saw improvements in the water supply with the addition of a second rain barrel and some new stands and locations. Nick enjoyed checking them out and enjoying how they worked.
Nick and Sally have been becoming quite the garden helpers. They are getting really good at watering, which is great because the weather has been dry all week.
We've even seen the first of our seeds sprouting, which is great news despite the hot, dry weather. We have been watering regularly to try to keep the seedlings from baking.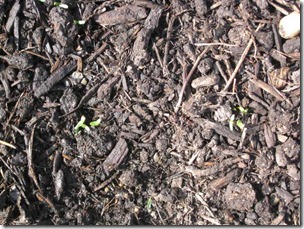 I'm hoping the rain continues while I am on vacation, but we have watering coverage just in case.