Today, we picked up our second week of our Geauga Family Farms CSA.  The table at Whole Foods wasn't manned today, but we didn't have any trouble getting our bag or extras and checking off our name at the customer service desk.
This time of year, the shares are a bit light since the growing season is just getting started.  I think it works out well because it give people time to get used to the process and figure out their greens.
Here's a group shot of this week's share: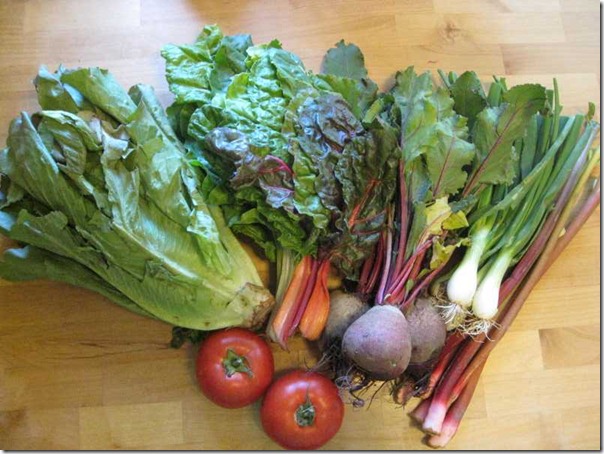 Lettuce, Swiss chard
Tomatoes (slicing), beets
Bunching onions, rhubarb
I'm going out of town this weekend and I'll be gone for two weeks.  My husband is picking up the share next week, so I want as much of this week's share to be used before I leave.  Since I have a crazy week ahead, my plan will include some preserving.
The lettuce will get used in salad.  We try to have lots of salads this time of year.  The Swiss chard will get added to some ground sausage with peppers and onions and put on tortillas for dinner tomorrow.  Nick and Stephen like tomatoes.  They'll just eat them or have them on their salads.  If they decide they don't want them, I'll pop them in the freezer.
To use the beets, I'll probably make Harvard beets.  Everyone likes them and I haven't looked up pickling yet.  I am pretty sure I want to pickle beets this year – especially if our garden beets take off.
Some of the onions will get used in the dish for tomorrow's dinner.  The rest I will just chop and freeze to get them out of the way.  We don't use many raw onions here, so freezing them works well.
I have a small bag of rhubarb in the freezer.  I'm going to add this rhubarb to the freezer as well.  I saw several recipes that look appealing.  Here are some ideas:
http://www.simplebites.net/salute-spring-ten-ways-to-enjoy-rhubarb-compote/
http://nourishedkitchen.com/strawberry-rhubarb-compote-with-honey-custard/
http://fooddoodles.com/2011/06/09/rhubarb-compote/
I'll most like be making compote and I'll probably mix in some strawberries or blueberries depending on what's in our freezer when I get around to it.
I love the freshness that we picked up in our bag.  Everything looks great.